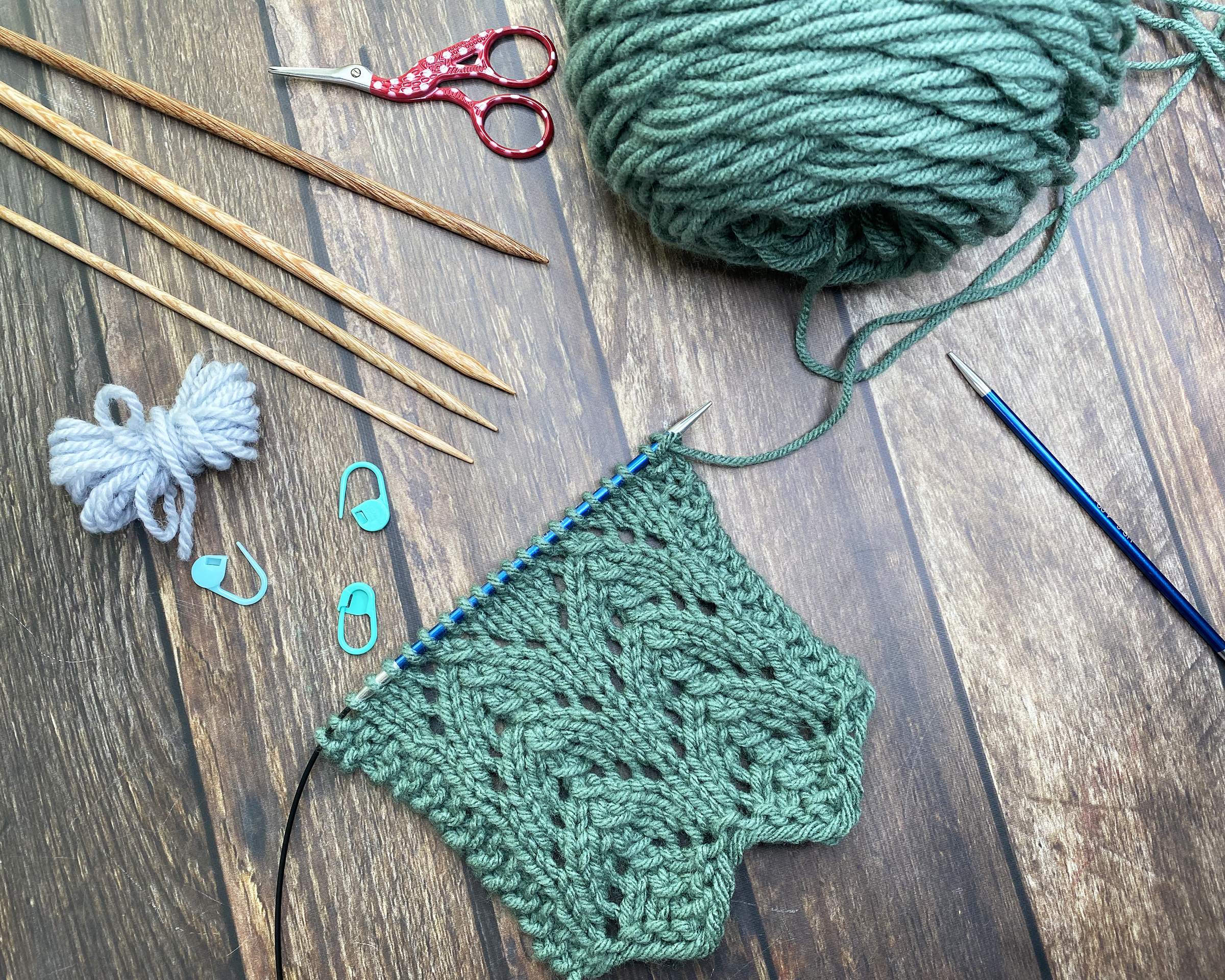 With hundreds of lace stitch patterns to try, the question is: where to start? While eyelets or mesh are great, easy lace stitch patterns to begin with, why not kick it up a notch and try fishtail lace? It's an easy 6-row repeating pattern that can be added to just about any project. I love using this one on shawls and slouchy hats. Once you've worked a few repeats, you can have this one memorized, making it a great choice for an easy potato-chip-style scarf. You won't want to put it down!
FISHTAIL LACE PATTERN
Cast on a multiple of 8 plus 5 stitches and work the pattern below. For my swatch, I cast on 21 stitches (8 x 2 = 16; 16 + 5 = 21 stitches). The chart includes two edge stitches, worked in garter stitch, so that the fabric won't curl.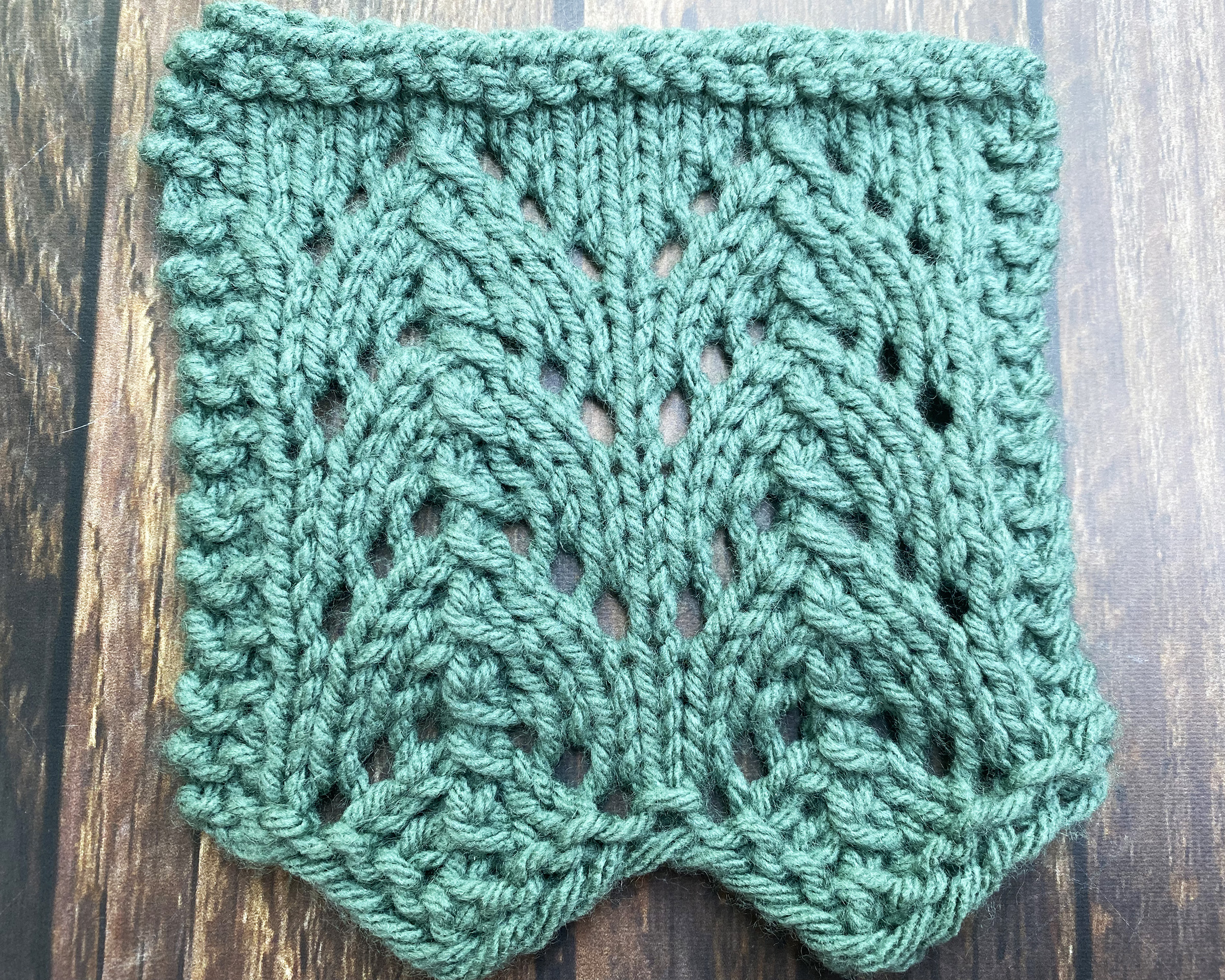 If you want to make this into a scarf, using worsted weight yarn and the appropriate needles, cast on 37 or 45 stitches. How many stitches you need to cast on will depend on your yarn and your gauge—any multiple of 8 plus 5 stitches will work! Knit a couple rows of garter stitch (knit on both RS and WS), then start the Fishtail Lace pattern, repeating Rows 1 through 6 until you are happy with the length of your scarf. Repeat the same amount of garter stitch rows at the end and bind off. An easy and fun scarf!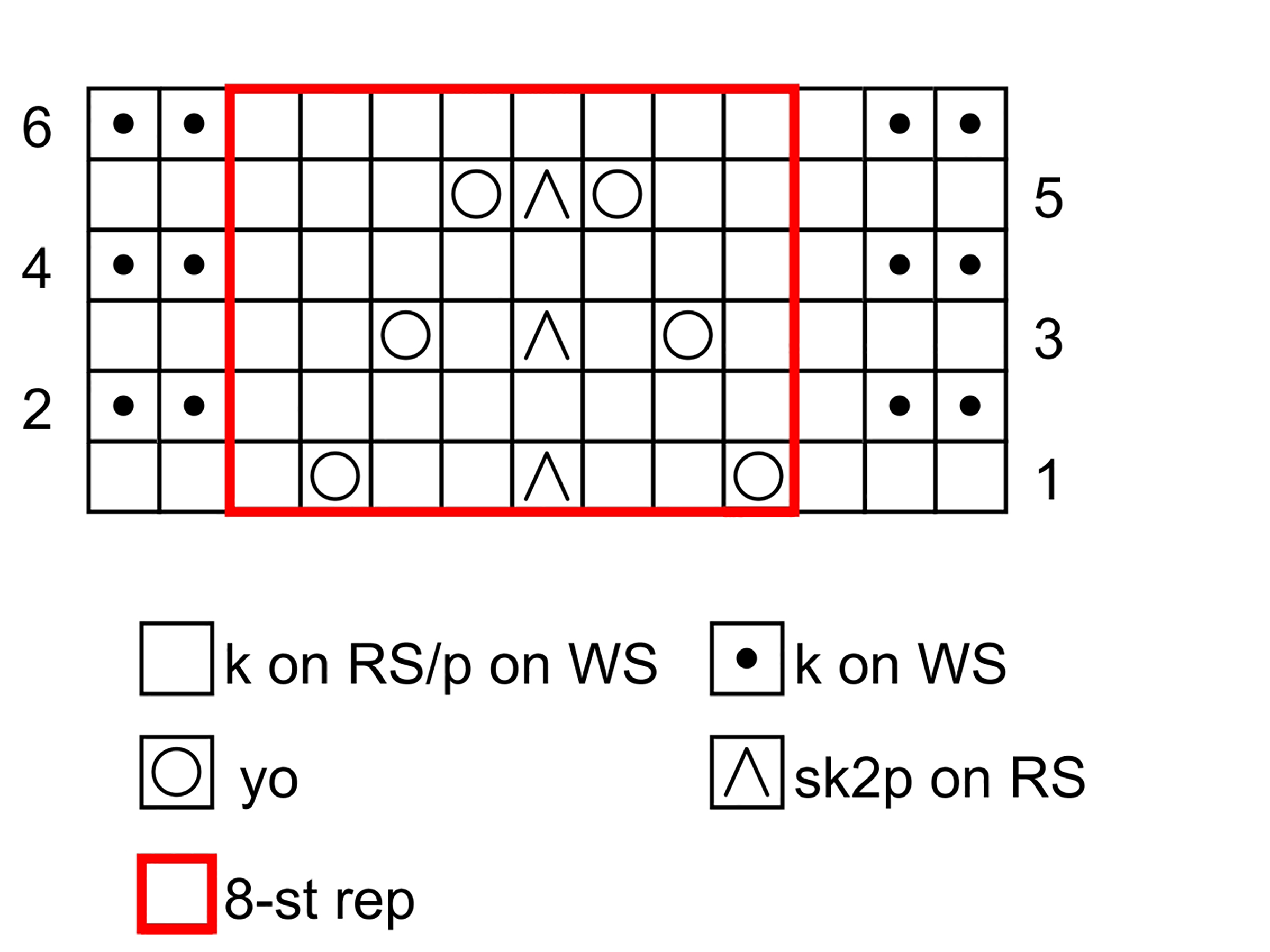 Row 1 (RS): K3, *yo, k2, sk2p, k2, yo, k1; rep from * to last 2 sts, k2. Row 2 (WS): K2, purl to the last 2 sts, k2. Row 3: K3, *k1, yo, k1, sk2p, k1, yo, k2; rep from * to last 2 sts, k2. Row 4: K2, purl to the last 2 sts, k2. Row 5: K3, *k2, yo, sk2p, yo, k3; rep from * to last 2 sts, k2. Row 6: K2, purl to the last 2 sts, k2. Rep Rows 1–6 for pattern.
ABBREVIATIONS
k: knit
p: purl
rep: repeat
RS: Right Side
sk2p: slip one stitch purlwise, knit two stitches together, pass the slipped stitch over
st(s): stitch(es)
WS: Wrong Side
yo: yarn over
Want to learn more about fishtail lace? Check out this premium video where I show you how to knit the stitch pattern step-by-step!