Meghan lives and knits in beautiful Washington state with her husband, four kids, two dogs, two cats, and eight chickens. She has a BFA in Fibers and Textiles with extensive work on the Compu-Dobby Loom, Japanese wax resist natural dyes, painting, drawing, sculpture, ceramics, and photography. She now designs knitwear under her own label Little NutMeg Productions, as well as contributing patterns to magazines, books, and yarn companies.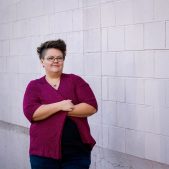 Other places to find Meghan Online: Ravelry, Instagram, and Facebook.
The Knitting Circle: When and how did you get started with knitting?
Meghan Jones: I originally learned to knit as a Brownie when I was maybe eight or nine, but I got really into it when I was pregnant with our oldest child and my husband was deployed. Knitting really helped me through when he was medically evacuated from Iraq and we had a newborn baby, being able to take breaks and knit provided calm moments in a crazy time.
TKC: What is your favorite thing to design and why?
MJ: I really like playing with stitch patterns and structure as composition, so it's not really any one thing I like to design but how the stitch patterns interact with the structure of the item that has me fascinated. In college I completed all but three classes of a Drawing degree before I transferred into Fibers and Textiles to complete my BFA. I love to use the elements of traditional composition I learned in drawing and painting combined with surface design I learned while weaving and wax resist natural dyeing to design my knitting patterns.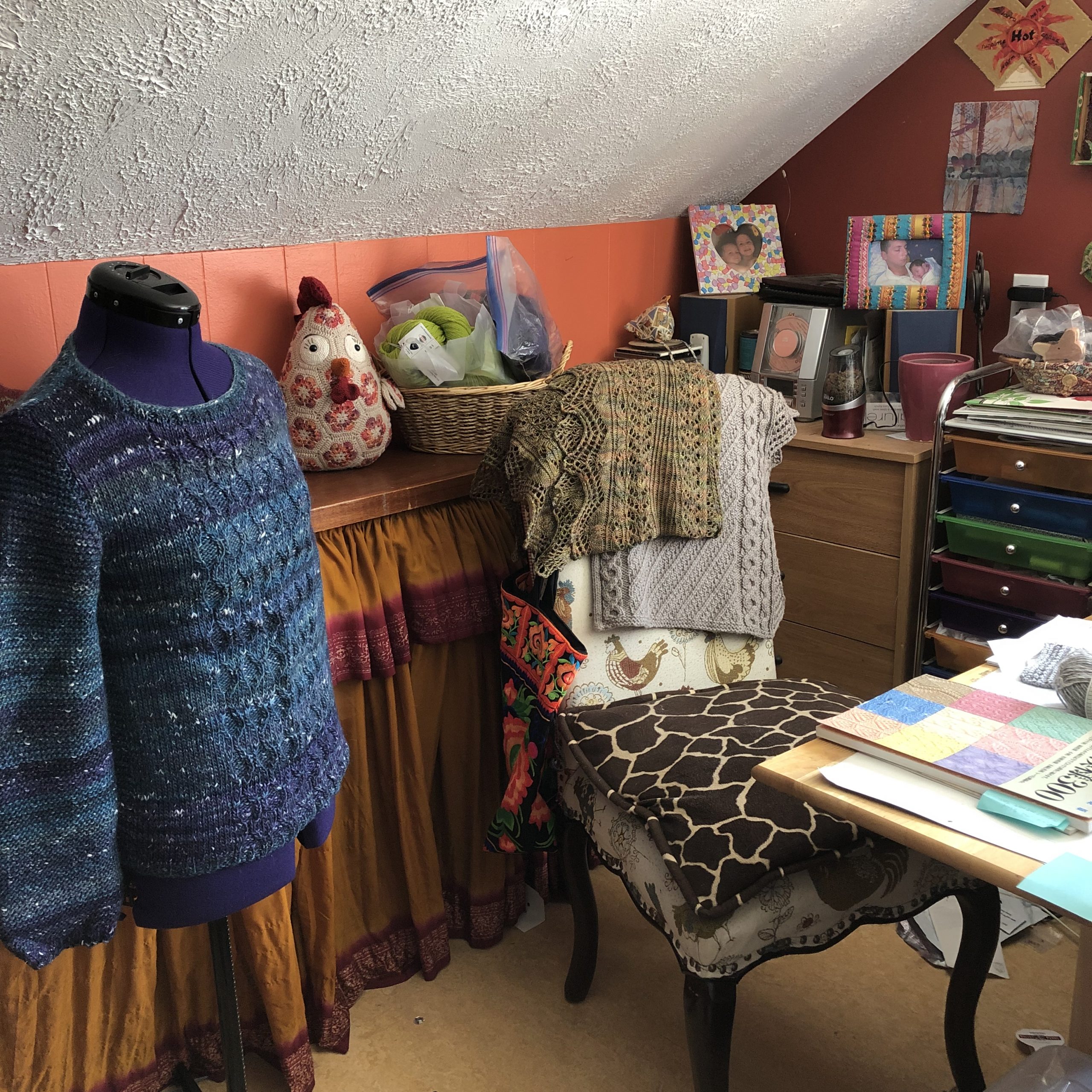 TKC: What does your day look like as a knitwear designer and maker?
MJ: I usually like to do more administrative work in the morning like writing blog posts, editing photos, or working on pattern charts and writeup. With our four kids home for distance learning this year I have added computer helper, cheerleader, and rule enforcer to my morning task list. Afternoons are spent running errands, doing chores, taking a long family walk, gardening, and helping the kids practice piano. Then when we get the little boys down for bed, I usually knit for most of the evening.
TKC: What's your favorite type of yarn? Why do you love it?
MJ: Recently I have developed a love affair with hand dyed mohair/silk blends, I love how fluffy and delightful they are to work with and how warm the finished items are. I also adore a good alpaca wool mix, a 3-ply construction with a slight halo and crunchy wool totally floats my boat.
TKC: If you could only use one knitting technique for the rest of your life, what would it be?
MJ: Oooooo tough call. I would have to go with cables on this one.
TKC: What other crafts or hobbies do you enjoy?
MJ: I am an avid vegetable gardener and love to spend time outside in my large garden, we are very lucky to own a house in the middle of four city lots and our veg patch is almost a whole lot in size. I dream of one day running a community garden with other like-minded garden lovers, and my happiest moment is when I can cook for a few months without having bought any vegetables from the store at all! I have also recently gotten back into sewing and am teaching our second daughter how to sew clothing for her barbies and even her siblings. And I love to cook, we have several complicated and serious allergies in the house, so cooking is a super creative process full of substitutions and experiments.