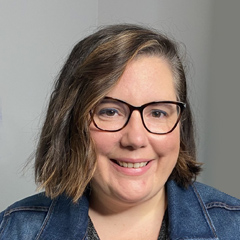 Casting On with Two Needles Held Together
Jen Lucas
The long tail cast on is one of the most commonly used cast on methods in knitting. It makes a lovely edge and is often the first cast on a person learns on their knitting journey. Having a loose cast on is important for many projects, but what if you're someone who casts on too tight? Not to worry—in this video, knitting expert Jen Lucas demonstrates how to work the long tail cast on with two needles held together.
Jen begins by estimating the amount of yarn she'll need for her tail. She holds both needles together, wrapping the yarn around the needle 10 times. She pulls the yarn off the needle and estimates that as 10 stitches. She makes the slip knot and puts both needles into it. She then starts working the long tail cast on with both needles held together.
While there are many different methods of casting on you can try, if you love the long tail cast on and need it to be extra loose, this is an excellent trick to try. Once the stitches are cast on, one needle is removed and the stitches on the remaining needle are nice and loose with a stretchy edge. What is your favorite way to create a loose cast on for your knitting projects?
4

Responses to "Casting On with Two Needles Held Together"
Explore videos by Jen Lucas