Are you starting a new project? Need help choosing the right knitting needles? Check out these stats on style, points, and materials to help you choose the perfect type of knitting needle for your project!
Needle Style
Not all knitting needles are great for all knitting projects, the style of needle you choose to work with is important and should match the type of project you are creating.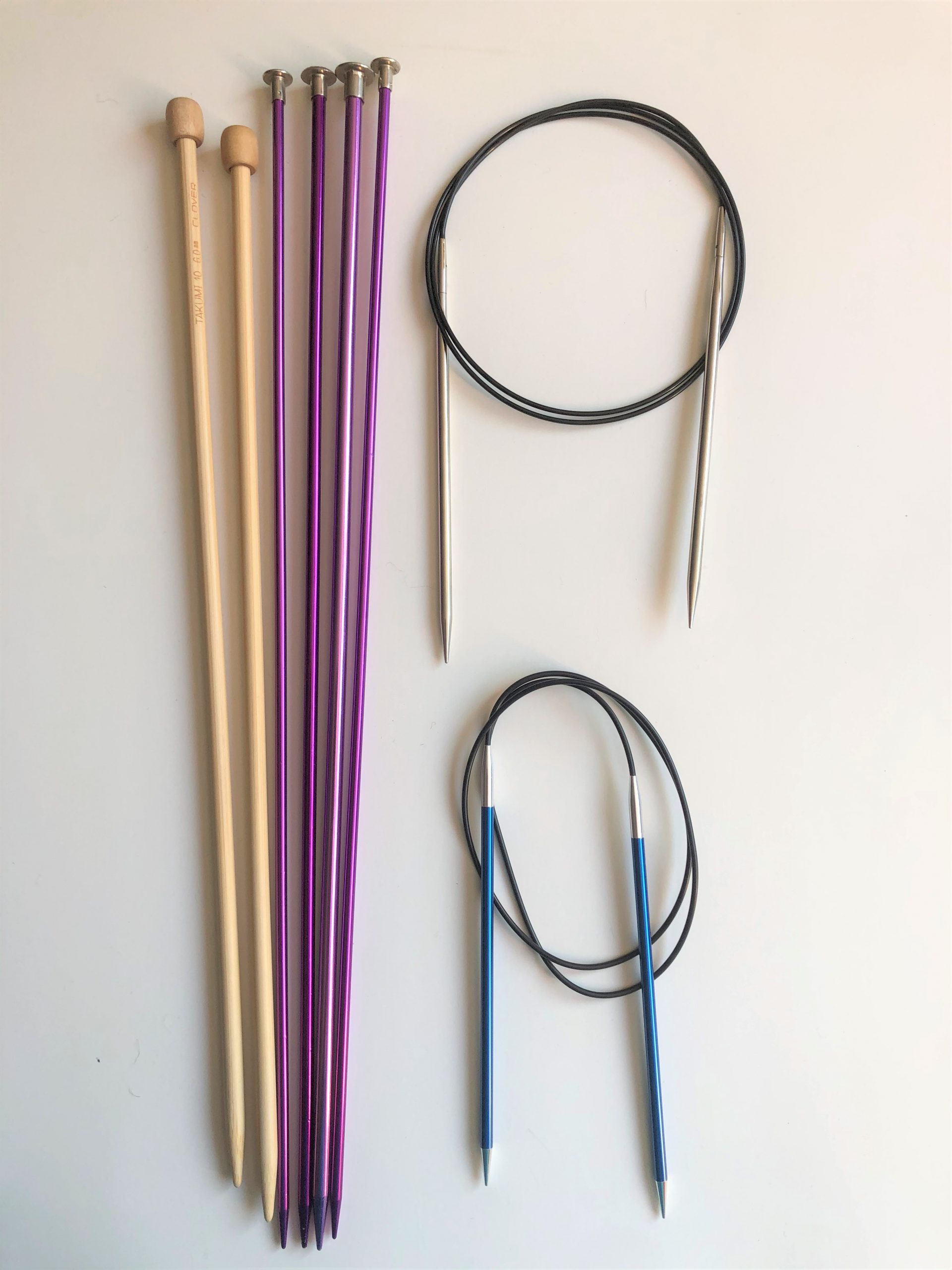 Working on a scarf or seamed cardigan? Try straight needles:
Straight Knitting Needles – Yes all knitting needles have a straight section to them, but 'straight' knitting needles are the kind you would most commonly associate with knitting. You know the kind from story books and movies, two sticks, one end pointed and a small knob or button on the other end. This type of needle is great for narrower flat pieces of knitting, think scarf, or a sweater worked flat in pieces and then seamed together.
Want to start a Pullover worked in the round or a blanket? Circulars are what you need:
Circular Knitting Needles – Circular needles are two short needles that are joined with a flexible cable. They are exquisitely versatile since they can be used for knitting in the round AND knitting flat. Since the needles are joined with a cable they can hold a larger number of stitches making this kind of needle perfect for knitting in the round or working on larger projects like a pullover, shawl or blanket. Since the weight of the knitting rests on the flexible cable, this type of needle can be much easier on the forearms and elbows of the knitter making for a more comfortable knitting experience.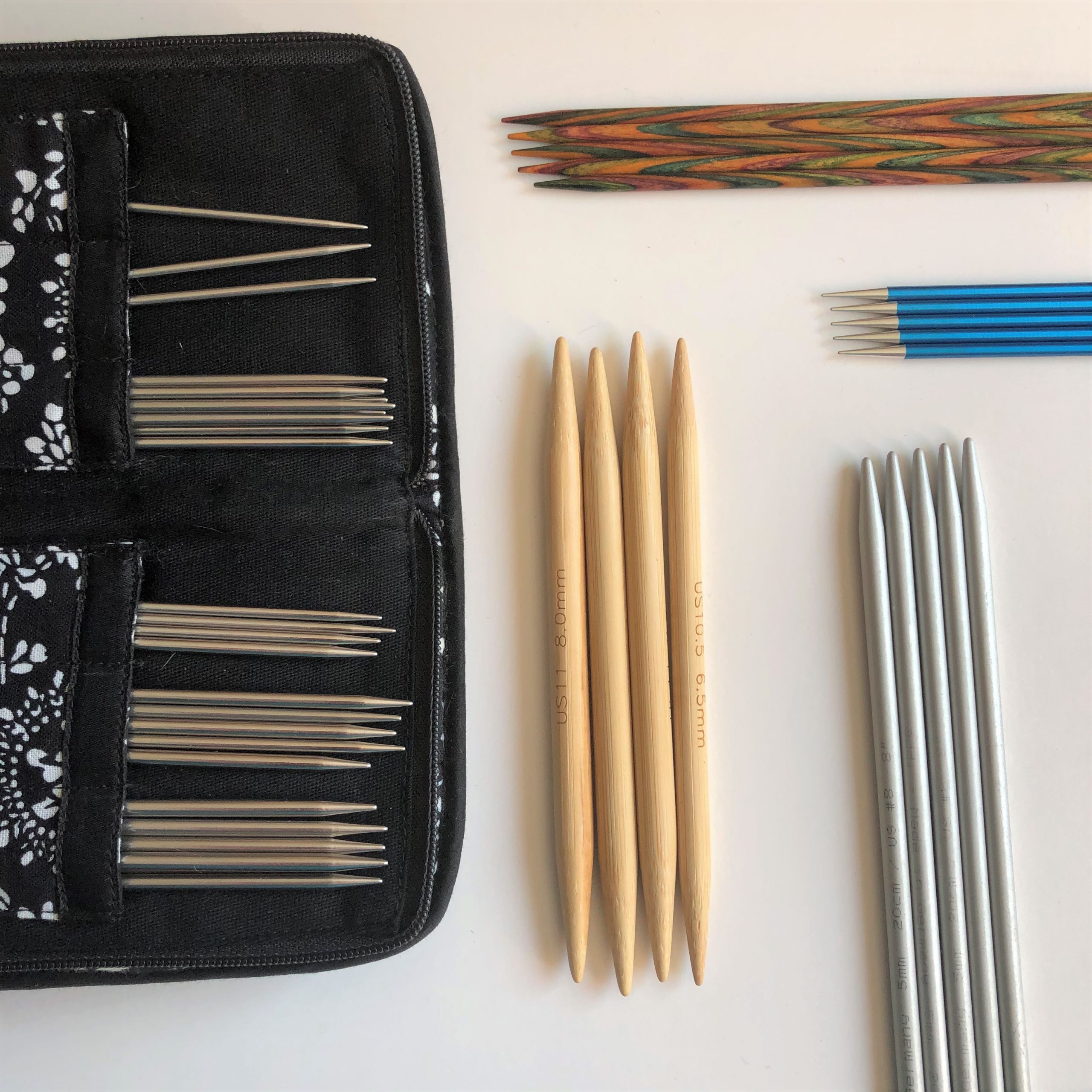 Are you small circumference knitting a sock or mitten? Double points are one way to go:
Double Pointed Needles – Double Pointed needles come in sets of 4 or 5, they are typically between 6-8 inches long and both ends are pointed. This type of needle is used for small circumference knitting where the stitches that are worked in the round are placed as evenly as possible on 3-4 needles, then worked around with the final needle. Most commonly used for hats, socks, and mittens this type of needle is excellent for decreasing areas like the top of a hat since the needles can accommodate the changing circumference.
Small circumference knitting can also use shorter circular needles, two circular needles, or one very long circular needle with the cable looped around.
Tip Type!
The type of finish that your needle tip has can affect your knitting experience and finished item.
Are you working with a plant based fiber like cotton? Or creating a beautiful Lace shawl? Sharp tips can help with that!
Sharply Pointed – Really sharp needles are great for knitting lace stitches, the narrower tips help the knitter and the needle insert into the yarn loops faster and with greater success when completing a decrease like k2tog, or ssk. Sharper tips can also help with make one increases when using a plant fiber yarn like cotton, the plant fibers yarns tend to have less elasticity and can be harder to twist into an increase. Narrower needles have a fine tip allowing the same increase with less tension.
Are you enjoying some meditative rows of stockinette or garter stitch? Middy points are a great choice to keep that zen feeling:
Snub or Middy Point – These needles are great for faster knitting, they have a wider point that is smooth and are better at not splitting the yarn. If you are working on a mostly garter stitch, or stockinette stitch item then this point style is a great choice. It also works well for loosely spun yarns like singles, novelty yarns and fuzzy yarns like mohair since typically the middy point will slide smoothly into the stitch versus getting snagged in the yarn.
Materials: What your needles are made out of matters!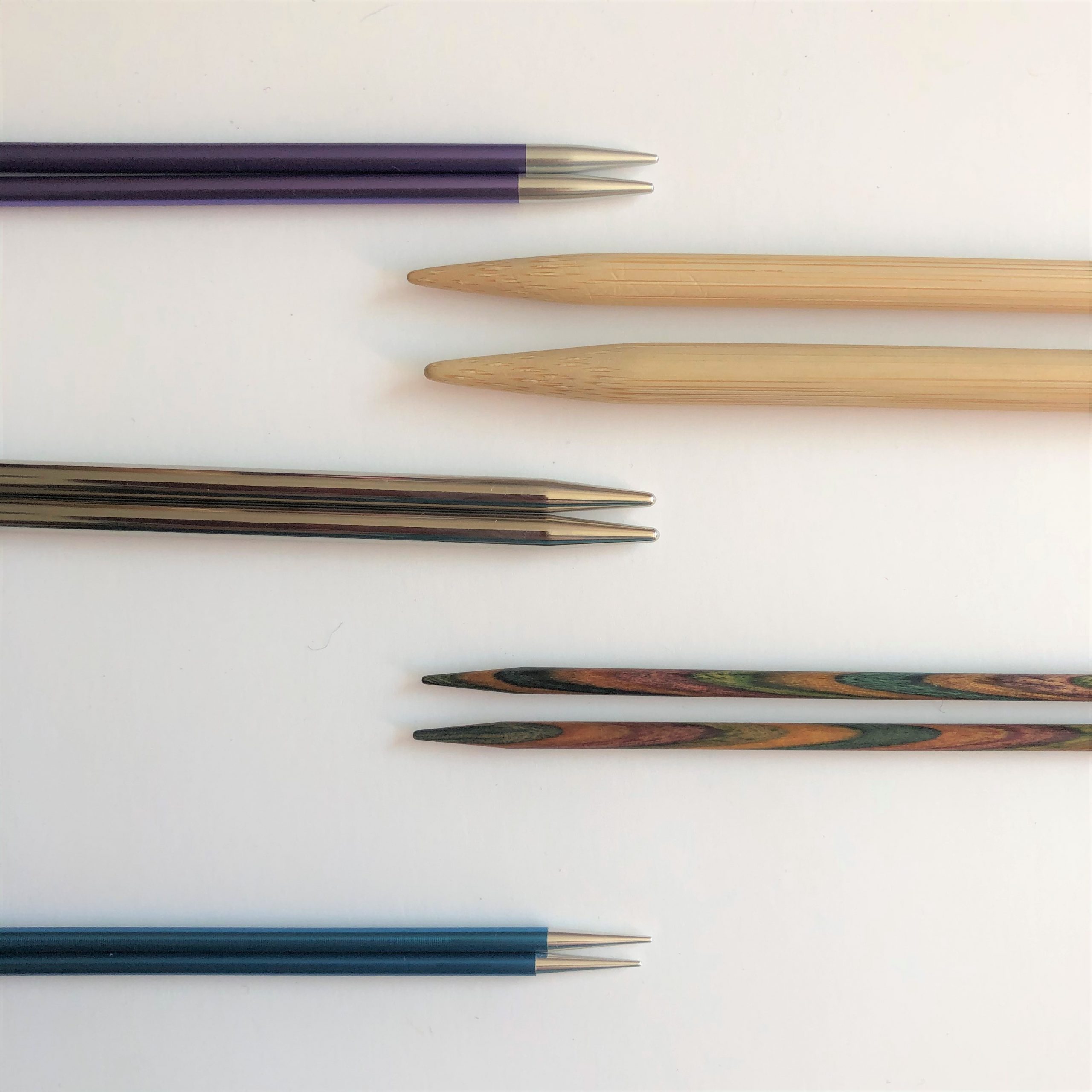 Most knitters have a preference for one material type or another, and it can be helpful to switch materials now and then depending on your project.
Working with wool? Try Metal Needles:
Metal Needles – Metal Needles are great for keeping the yarn moving smoothly along the needle, they are ideal for yarns that are typically sticky like wool or mohair. If you are typically a knitter with loose tension switching to metal needles might help you tighten up, the more slippery needles will require tighter stitches thus firming up your tension.
Super Slippery Yarn? Wood Needles can help:
Wooden Needles – Wood or Bamboo needles are typically stickier to work on than metal needles. If you are using a slippery yarn like rayon or bamboo working on wooden needles can help you keep the stitches on the needles better. If you are typically a knitter with tight tension switching to wooden needles might help you loosen up, the more sticky needles will require looser stitches thus relaxing your tension.
Using a strong yarn like cotton? Plastic Needles can be flexible:
Plastic Needles – Plastic needles are light to work with and are typically stickier than metal but smoother than wood. Some knitters love the flexibility of plastic needles, especially when working with a strong yarn like cotton.