Jill's mother taught her to knit and sew at the age of six, and she learned to crochet at age eight. Jill learned to make her own clothes early on and has experience in machine sewing and machine knitting, rubber stamping, beadwork, spinning, cross stitch, felting, and a multitude of other crafts. She began designing in 2007 and has been published in several knitting and crochet magazines, as well as having designed for many yarn companies. She is the author of the book Take the Fear Out of Cables and has contributed designs to several other books.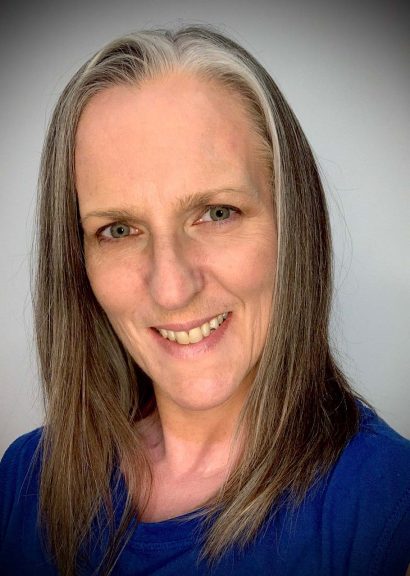 Jill's websites are Woolcrafting.com (dedicated to teaching beginners crochet and felting) and Scarffinity.com (all about scarves). Jill also is enthusiastic about Jazzercise and has been a regular instructor since 2014, at her local Jazzercise studio in Conifer, Colorado.
The Knitting Circle: When and how did you get started with knitting?
Jill Wright:My mom taught me to knit at age 6. By age 8 I was knitting baby clothes for my brownie badge, and by about 13 I was designing my own tops, etc.
TKC: What is your favorite thing to design and why?
JW: I'm not sure I have a favorite thing to design. I just love the whole design process from concept/inspiration, through sketches, to swatches, and finally creating the finished piece.
TKC: What does your day look like as a knitwear designer and maker?
JW: Well, first of all I'm a mom to 3 boys (including 2 teenagers), so my day consists of making sure that they are where they need to be at the right times, feeding them copious amounts of food, and driving the youngest to soccer practice. Once at soccer I can pull out whatever I'm working on as it's not worth driving home due to long distances. I usually am knitting at night while the tv is on, as depending on the stitch pattern I'm using I may or may not need to look at what I'm doing.
TKC: What's your favorite type of yarn? Why do you love it?
JW: I do love the natural fibers. I think my absolute favorite would have to be merino for its amazing stitch definition whatever the stitch pattern or technique, but I do have a soft spot for the handle of alpaca (they're so cute) and cashmere.
TKC: If you could only use one knitting technique for the rest of your life, what would it be?
JW: I'd have to say cables would be my one and only. Having been raised in the UK and seen the inspiration of the Celtic crosses, etc., and having had my mom and grandma knit me Aran sweaters as a child, I just had to learn the technique and was bitten by the bug. The combination of stitches I find so interesting and the possibilities for stitch combinations are simply endless.
TKC: What other crafts or hobbies do you enjoy?
JW: I have a vast store of crafting supplies! My husband says he could never provide enough storage for me! I'd have to say I must have tried pretty much all the crafts you can imagine. If the kids come to me & say they have an art project to do, I can gladly provide inspiration and supplies for whatever they need. If I have time, I might do some simple weaving, beading, quilting, make cards, pencil sketch, sew something, macrame, woodwork…you name it. I also make lip balms and other balms with essential oils. I'd really like to try soapmaking!
TKC: Any quick tips/knitting hacks to share?
JW:Oh, my…too many to list, but here's a quick one. If you have a lot of stitches on an interchangeable circular needle, you can prevent the stitches from slipping off during travel by switching the needle ends to a larger size, just don't forget to switch back to the size you need to knit with before you start again. And, here's a bonus one…To avoid the loopy last stitch at bind off, knit the last 2 bind off stitches together, then pull the yarn end through! Boom! Neat edge! Also – SWATCH – ALWAYS!