Rebecca is the knitwear designer behind the Raging Purlwind brand. The brand grew out of Rebecca's desire to create clothes that would fit all body sizes well and help others feel confident about their bodies. She has a whimsical style and enjoys designing colorful, vintage-inspired knitwear pieces that she hopes will become staples in an everyday wardrobe. Rebecca learned to knit at an early age from her grandmother, has taught numerous knitting classes, and enjoys sharing all she has learned as a knitter with others.
Other places to find Rebecca Online: Ravelry, and Instagram.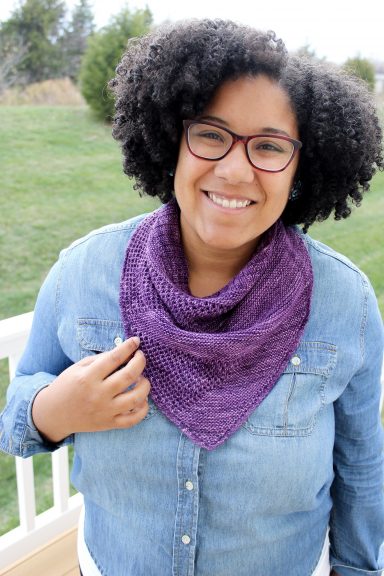 The Knitting Circle: When and how did you get started with knitting?
Rebecca McKenzie:I have been knitting for about 23 years. I first learned how to knit from my grandma when I was younger. I asked her to teach me one day when I found some yarn and knitting needles in the back of her closet. My grandma only knew how to knit and purl, so I soon turned to books to learn more techniques (aka the old internet). This was before YouTube, so it was very slow going to learn new techniques. Now, I don't know what I would do without the help of amazing fiber bloggers and YouTubers!
TKC: What is your favorite thing to design and why?
RM: My favorite thing to design has to be a shawl. I love how beautiful and versatile shawls can be. The shapes that can be made with shawls are all so interesting and fascinating so I feel like I can never get bored. They also are great projects to take with you easily in a project bag.
TKC: What does your day look like as a knitwear designer and maker?
RM:I design in addition to staying home with my 3-year-old daughter full time so my days can vary. Most days I will wake up before my daughter to work on pattern writing, grading, and business planning. Then if I can, I will knit on designs throughout my day with my daughter. Sometimes I will work on designing after my daughter goes to bed as well.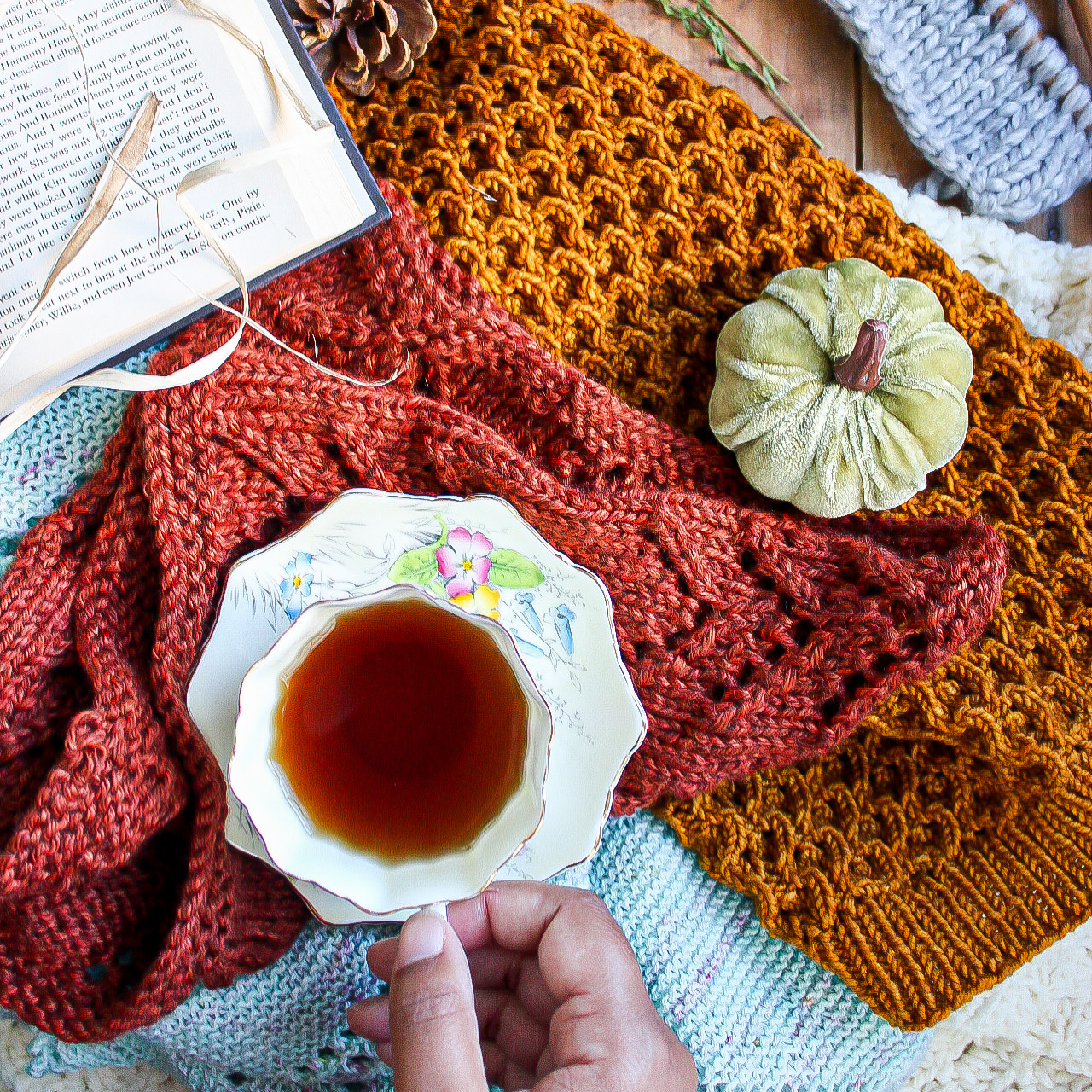 TKC: What's your favorite type of yarn? Why do you love it?
RM: My favorite yarn has to be baby alpaca. I love how soft baby alpaca yarn is and the halo look of it. It also feels so soft to knit with, which makes my knitting experience feel luxurious.
TKC: If you could only use one knitting technique for the rest of your life, what would it be?
RM: Most of my designs use lace techniques so I would say I would pick lace as the technique I would do for the rest of my life. I just love the airy and intricate look of lace so much. It also offers a great challenge with great rewards.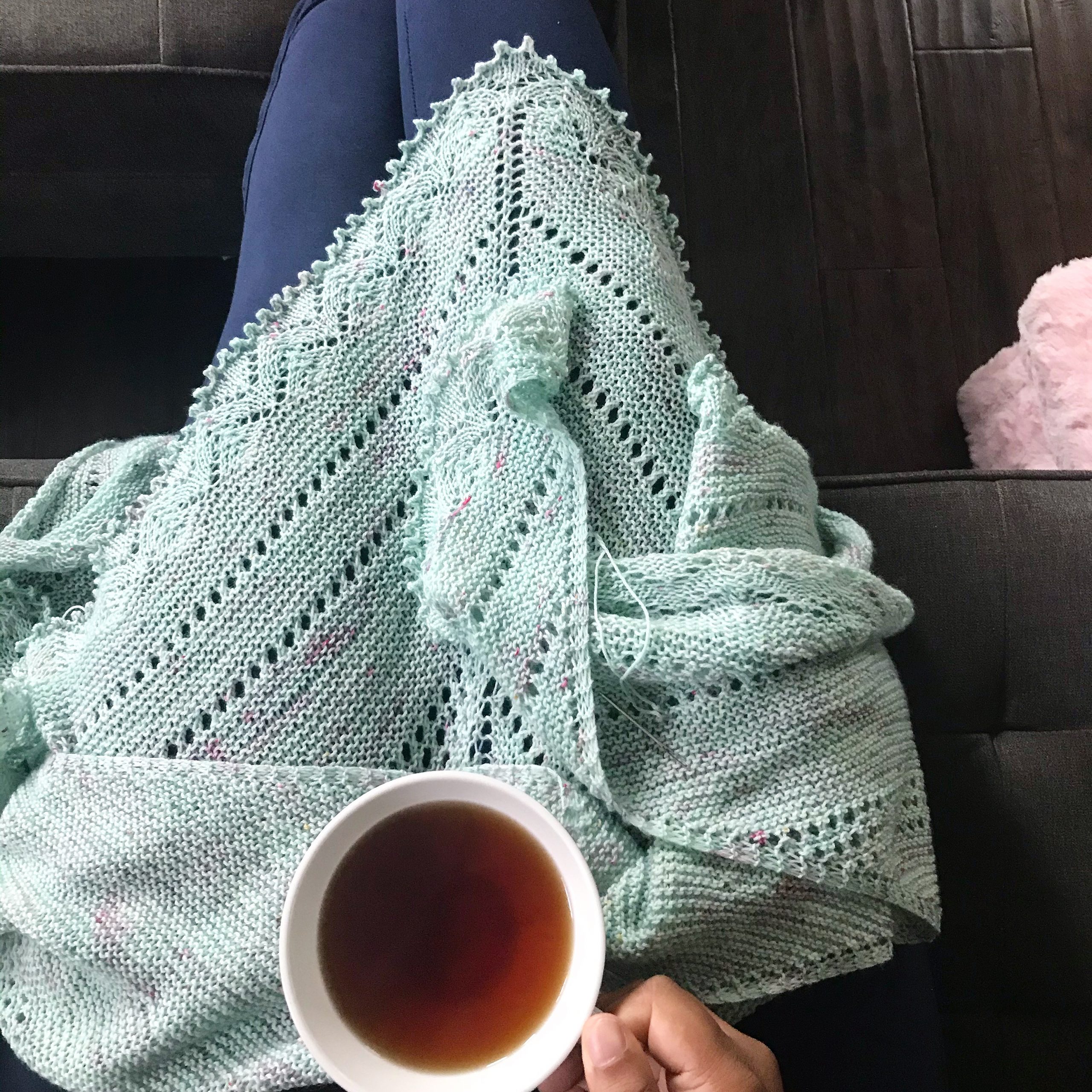 TKC: What other crafts or hobbies do you enjoy?
RM: I feel like I am always trying to pick up a new craft or hobby to try but the ones that have stuck are crocheting, polymer clay charm making, and drawing/painting. I love doing other hobbies as a way to get a mental break from knitting. They also provide opportunities to use my creativity in different ways.
TKC: Any quick tips/knitting hacks to share?
RM: I always print knitting patterns for projects I'm working on. That way I can use a highlighter and pencil to write in notes and tally repeats to make working the pattern easier for myself. Once I complete a pattern, I store it in a sheet protector and then a binder. That way if I want to knit a pattern again, I will have all my notes, modifications, etc. at the ready.