Yarn color dominance. What is it? How can I control it?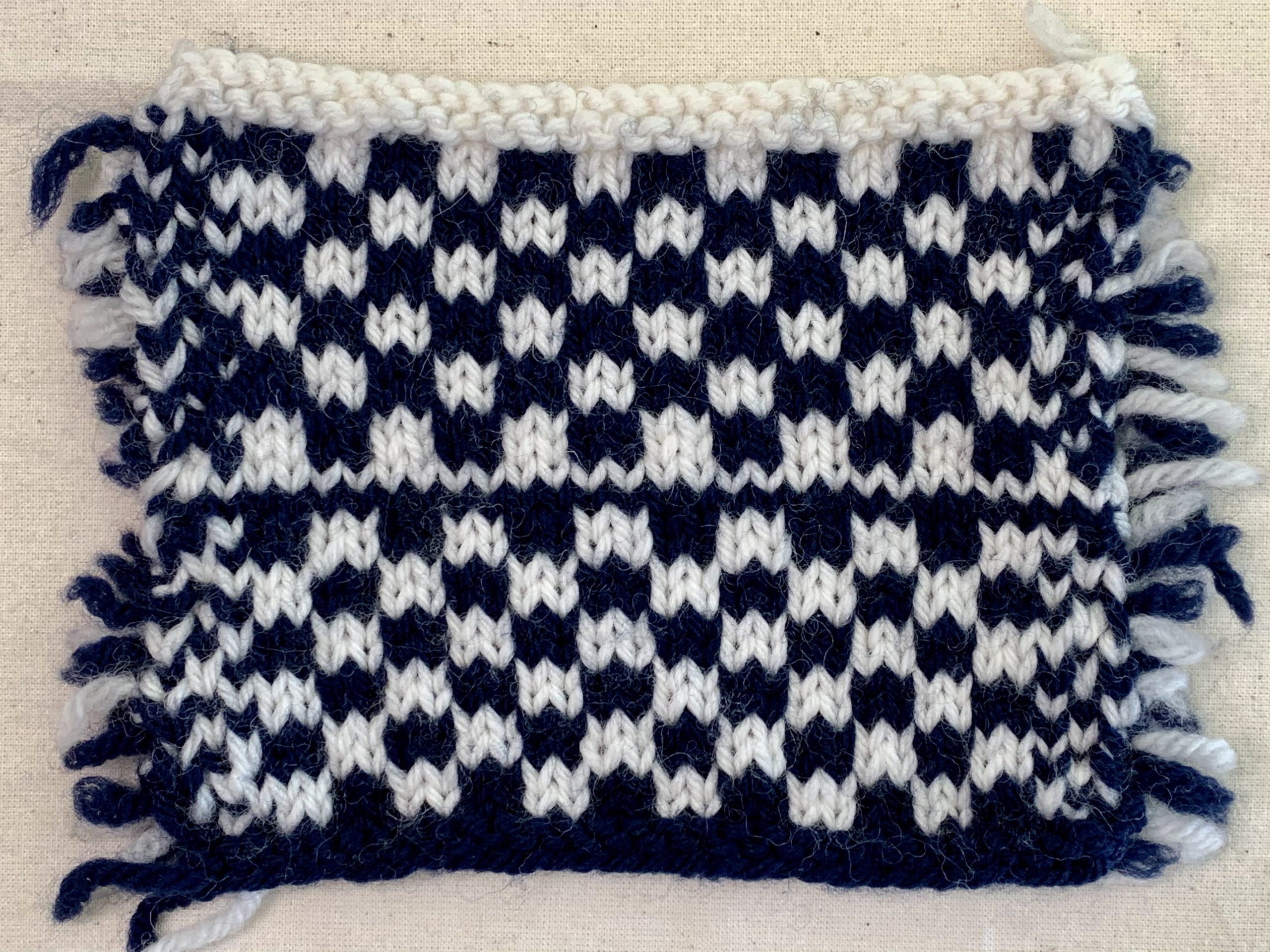 When knitting with two colors, the two yarns can't be in exactly the same place. One yarn will be carried below the other, and that makes it travel further to get to the needle. That makes the stitch just a little bit taller, and that stitch will be dominant.
Look at the photo above. On the top half of the piece, the navy stitches look a little bigger than the white stitches. On the bottom half of the piece, the white stitches look bigger.
Here's the back of the same piece. Notice that the opposite is true. Where the navy colored stitches look bigger on the front, you see more of the white colored yarn on the back, and vice versa.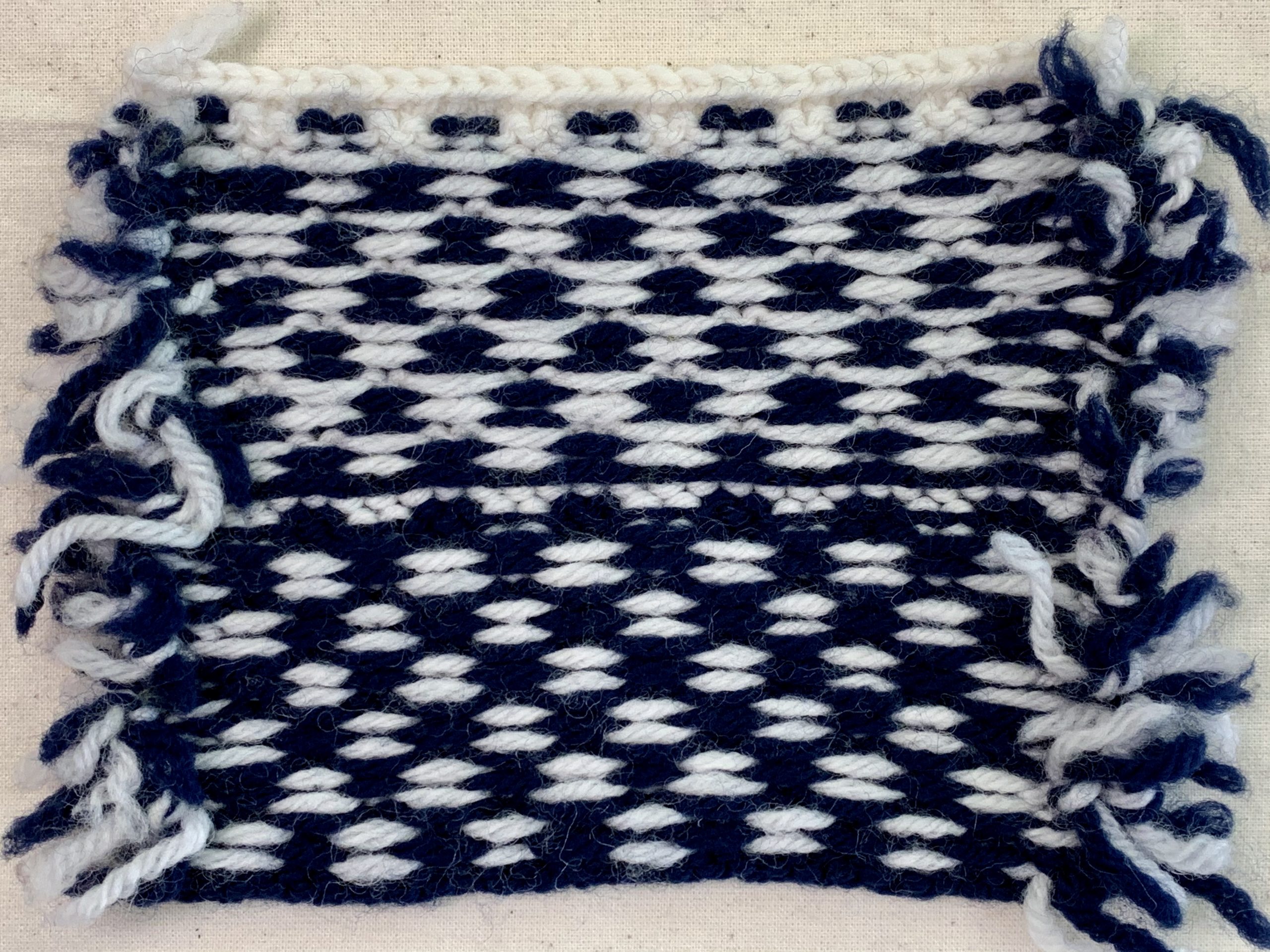 Always keep your yarns separate, and in the same order.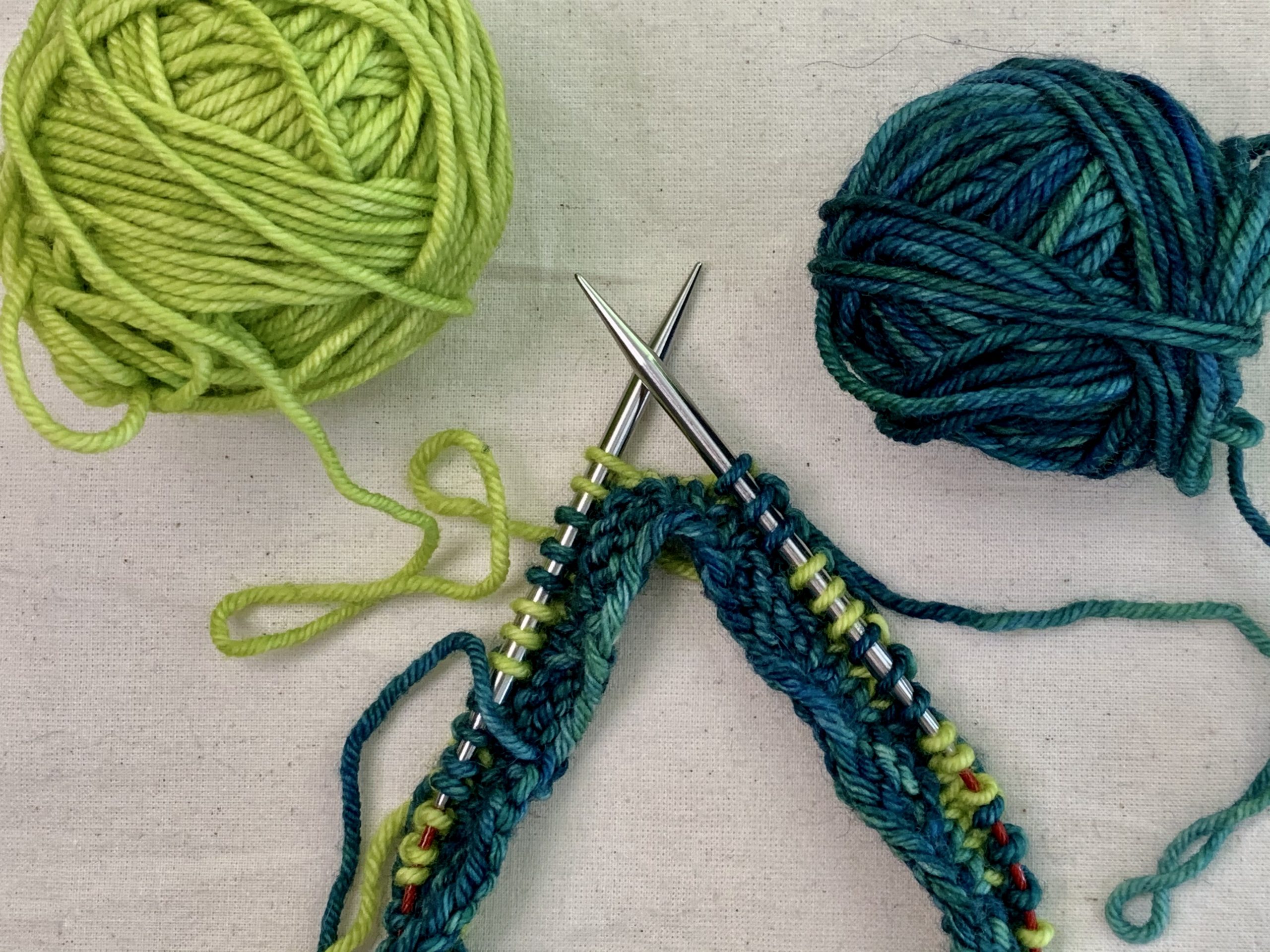 Usually, the yarn on your left will be dominant over the one on your right. The yarn on your right rides closest to your needle, and the yarn on your left travels from underneath to make a taller stitch. Your knitting style may make this opposite; make a little swatch and see. I'm carrying the lighter green on the left, and the darker green on the right.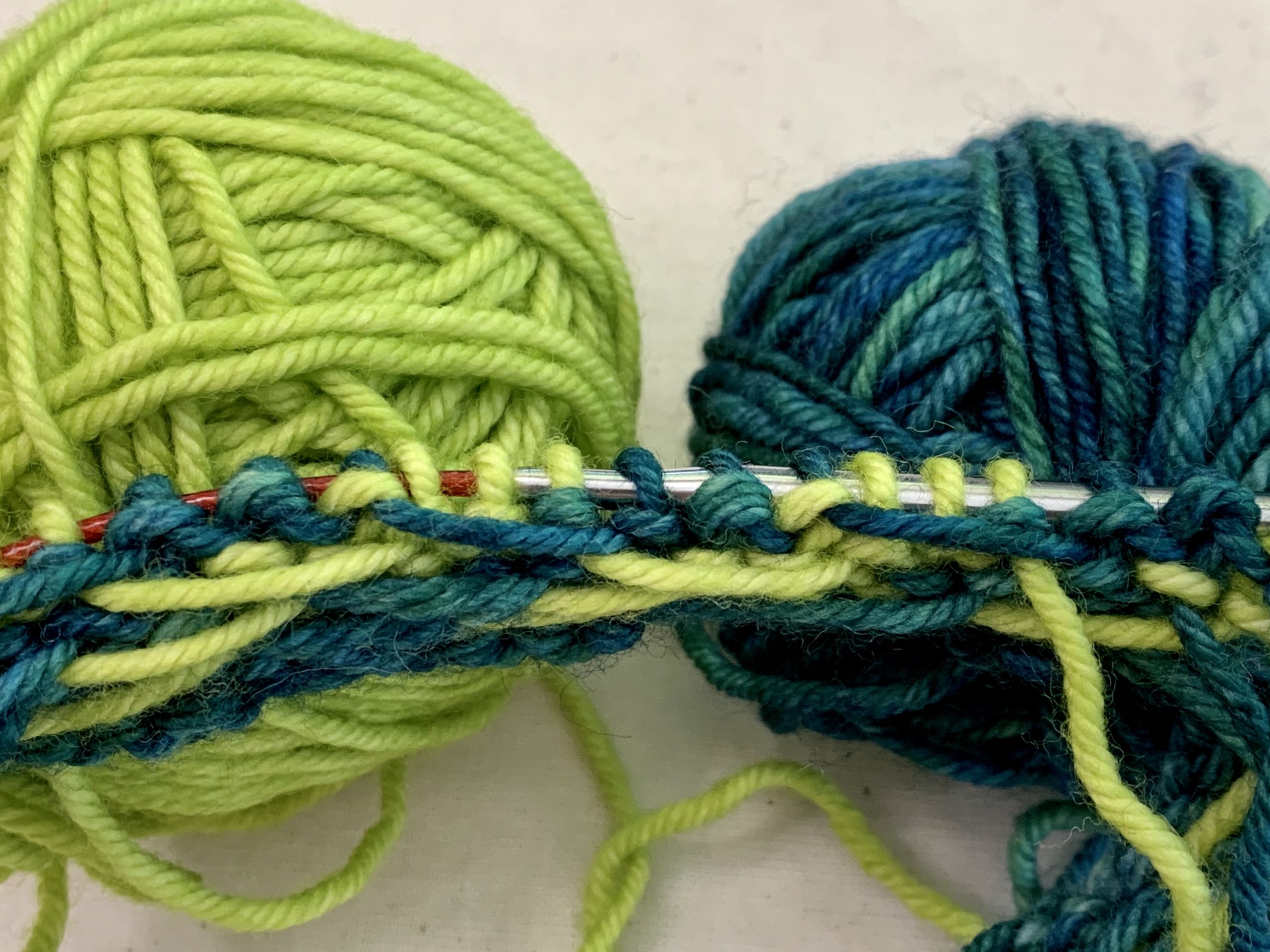 Looking at the back side of my knitting, the darker color is riding near the needle, and the lighter green rides below the dark green. That makes it a little taller, so the stitch is a little bigger.
Even if you can't remember which is "dominant," always have the colors in the same position so your colorwork looks crisp. Make a note on your pattern so you remember which color goes on your left.
You can control which color is dominant.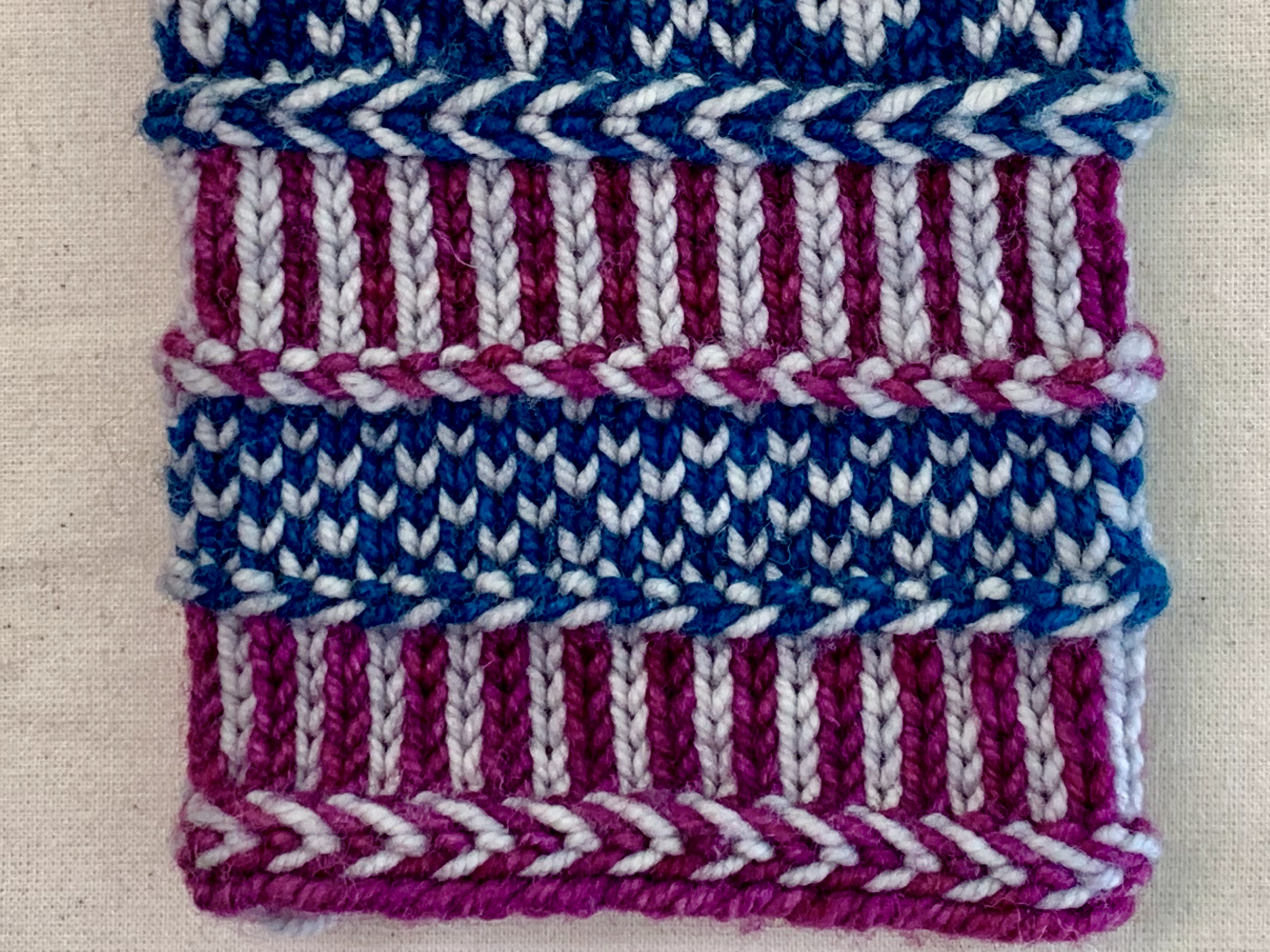 On this piece, I've chosen pink to be my dominant color in the lower section of vertical stripes, and gray to be my dominant color in the upper section of vertical stripes. For my particular style of knitting, the yarn I carry on the left is dominant. You can pick up and drop your yarns as you work or carry one in each hand. You can even carry both in the same hand, as long as you orient one to be left and one to be right. I carry both in my right hand.
Make it work for you!
If you're working with high contrast yarns, you can tone it down by making your darker color your dominant color. And if your yarns don't have much contrast, you can bump it up by making your lighter color your dominant color. You're the boss!