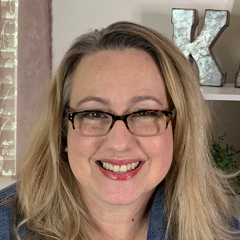 Blocking Blanket Squares
Corrina Ferguson
Knitting several squares and seaming them together is a popular method for creating blankets. With different stitch patterns and yarns being used to create each square, properly blocking the blanket squares is an important step in completing this project. In this video, Corrina Ferguson demonstrates how to block blanket squares.

BLOCKING TOOLS
A few tools are needed in order to complete the blocking process:
– Blocking mats
– Rust-proof pins
– Ruler or tape measure
To begin, soak the sweater pieces in lukewarm water and add a wool wash, if desired. Let the pieces soak for at least 30 minutes, to ensure that all the fibers in the yarn are fully saturated. Gently squeeze the water out of the pieces. You might find it helpful to wrap the pieces in a towel and step on them to remove the excess water. The blanket squares are then blocked to the measurements given in the pattern. In the example in the video, Corrina blocks her pieces to a finished measurement of 10-inch square.
As Corrina mentions, it's important to let the squares completely dry before removing them from the blocking surface. If they are removed while still damp, they will not hold the shape to which they were blocked. Once the blocking is complete, the blanket is ready to be seamed together.
Popular All Videos videos
Explore videos by Corrina Ferguson