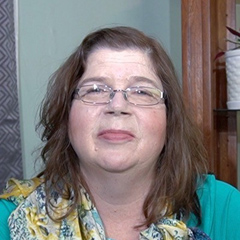 Finishing Basics: Weaving in Ends
Mary Beth Temple
When a project is a complete, some basic finishing is needed to have your project looking its best. In this video, Mary Beth Temple explains how she likes to weave in ends on a Stockinette stitch fabric.
The Stockinette stitch is creating by knitting the stitches on the Right Side and purling the stitches on the Wrong Side. Mary Beth attaches a contrasting-color yarn so that you can easily see how she is weaving in the ends on the Wrong Side of the swatch.
She threads the yarn onto a tapestry needle, noting that there any many different tapestry needles and to use the one that's best for you. Mary Beth works the yarn tail under the loops on the Wrong Side, following the path of the stitches on the swatch. She she's done, she trims the yarn, and tugs slightly to make sure the fabric hasn't been pulled too tight. From the Right Side of the work, the ends are nearly invisible and blend right into the fabric.

Popular All Videos videos
Explore videos by Mary Beth Temple