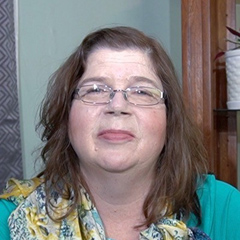 Get to Know Your Pattern: Understanding Your Gauge
Mary Beth Temple
It's important to understand how to achieve the proper gauge in a knitting pattern. In this video, Mary Beth Temple explains how to read the gauge section of a knitting pattern, and how you go about achieving the proper gauge.
The gauge listed on a knitting pattern is the exact gauge that the person who knit the sample shown in the pattern got when knitting the piece. It's important for your gauge to match so that you're finished item will be the correct size.
Mary Beth says to knit a gauge swatch, use the stitch pattern listed in the gauge section of the pattern, in this case, garter stitch (knit on Right Side and Wrong Side). The swatch should be worked in the yarn and needles you plan to use for the project, and it should be blocked in the manner you plan to use on the finished item. The swatch should be large enough that a four-inch square can be measured, without having to measure the edge stitches.
If the swatch results in having too few stitches, switch to a smaller needle and try again. If the swatch has too many stitches, switch to a larger needle to work another gauge swatch. Mary Beth notes that taking the time to check and achieve gauge will save you time in the long run. You'll end up with a finished item that fits properly.
Related Pattern: Apple River Shawl
The garter stitch selvedge stitch is created by knitting on both the Right Side and Wrong Side of the work. Mary Beth has a single garter stitch selvedge, but a wider garter stitch selvedge is often used to create a border around a stitch pattern. Like the other selvedges shown in the video, a garter stitch selvedge can easily be picked up and knit to work the knitting in a different direction.
3

Responses to "Get to Know Your Pattern: Understanding Your Gauge"
Explore videos by Mary Beth Temple