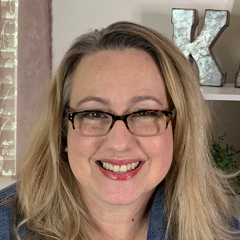 How to Knit Eyelets
Corrina Ferguson
Eyelets are easy! In this video, lace knitting expert Corrina Ferguson discusses eyelets, how to make them, and how these increases can be paired with decreases in your knitting to create beautiful stitch patterns.
SINGLE YARN OVERS
Using the traditional yarn over, an eyelet is created. Often the yarn over is paired with a decrease to keep the stitch count the same in the fabric. That's not always the case though; eyelets without paired decreases can be used to move and shape fabric. Interesting eyelets can also be created by stacking single yarn overs on top of each other on both right side and wrong side rows to create a ladder effect, which can be incredibly beautiful and delicate in your lace projects.
DOUBLE YARN OVERS
Larger eyelet stitches are created by working double yarn overs. The yarn is wrapped around the knitting needle twice to create the larger hole. When working the next row of knitting, the double yarn over is worked by knitting into the first yarn over and purling into the second yarn over. This keeps the stitch count the same and anchors the double yarn over.
Popular All Videos videos
Explore videos by Corrina Ferguson