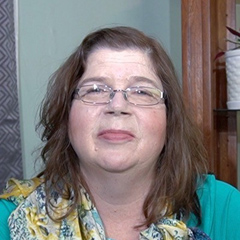 Jogless Join for Knitting Stripes in the Round
Mary Beth Temple
From hats to socks, knitting in the round is used as a way to construct a wide variety of knitting projects. In some cases, those projects involve knitting stripes in multiple colors of yarn. Mary Beth Temple will show you her favorite way for working stripes in the round and how to create what's called a jogless join. It's a great technique to have your stripes looking their best in your next circular knitting project.
As Mary Beth points out in the video, you're essentially creating a spiral when you're knitting stripes in the round, which is why the rounds form what's called a jog. This jog is the difference of elevation in your stitches at the start and end of the round.
To prevent this, Mary Beth demonstrates the jogless join. You'll add your new color of yarn and knit one round. When you come to the end of the round, slip the marker which indicates the beginning of the round. Then work the jogless join by bringing up the back leg of the stitch from one row below onto the left-hand needle and knit it together with the stitch that was already on the needle. The back leg of the stitch that is brought up to the needle will be in the old color. Working this method of jogless join brings up the old color of yarn while knitting the first stitch of the next round at the same time.
Explore videos by Mary Beth Temple