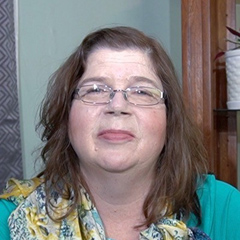 Judy's Magic Provisional Cast On
Mary Beth Temple
Judy's Magic Cast On is a versatile cast on that is perfect for projects worked in the round like toe-up socks or top-down mittens. But how else can you use this magical cast on? In this video, knitting expert Mary Beth Temple explains how to work a provisional version of Judy's Magic Cast On.
To begin, Mary Beth quickly reviews the traditional version of Judy's Magic Cast On:
With the tips pointing to the left and with one needle on top of the other, Mary Beth drapes the yarn over the top needle, with the long tail closest to her and the working yarn furthest from her. She takes the two yarns and configures them in her hands in the same manner as a long tail cast on. The long tail is over her index finger and the working yarn is over her thumb.
She then begins working Judy's Magic Cast On following these steps:
1. Bring yarn from index finger under the bottom needle and then between the needles to add a stitch to the bottom needle.
2. Bring yarn from thumb between the two needles and over the top needle to add a stitch to the top needle.
With the traditional version of this cast on, you would begin knitting in the round. Instead, Mary Beth takes the stitches on one needle and places them onto a stitch holder, to be worked later. She then works back and forth in rows with the stitches on the other needle.
Once she has worked several rows of Stockinette stitch (knit on Right Side/purl on Wrong Side), she notes that there are two commonly two things done with the stitches left on the stitch holder:
1. Place back on knitting needle and use the Kitchener stitch to graft the start and end together to make a loop (like for a cowl).
2. Place stitches back on knitting needle and begin working in rows in the opposite direction.
Explore videos by Mary Beth Temple