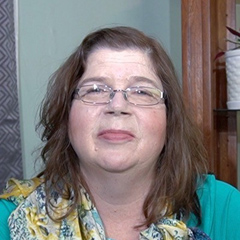 Pre-Stringing Beads for Your Knitting Project
Mary Beth Temple
Adding beads to a knitting project is an easy way to add a little sparkle to an otherwise simple pattern. There are a few different ways to add beads to knitting, and in this video Mary Beth Temple breaks down the popular method of pre-stringing the beads onto yarn.
Mary Beth is demonstrating this technique with a super bulky yarn and plastic pony beads. She notes that most often, beads are added to lace weight or light fingering weight projects. No matter what weight of yarn is being used, it's important to make sure that the bead can fit through the yarn when the yarn is doubled.
Using a Big Eye Beading Needle, Mary Beth places the yarn through the eye of the needle. She mentions that this is her preferred beading needle, but any beading needle will work as long as the yarn and beads will fit onto it. She takes the beads and places them onto the beading needle and then threads them onto the yarn. She repeats this process for several beads.
When working the beads into your project, the beads are usually worked in with knit stitches on the Right Side of the fabric. Mary Beth knits a few stitches and then places a bead by beginning a knit stitch and sliding the bead up to the knitting needles, making sure that the bead comes through the stitch as she is completing the knit stitch. She notices that the beads torque slightly on the diagonal, but typically this is not very noticeable in a project.
If beads are to be placed on a Wrong Side row with a purl stitch, it can be done, but many knitters find this to be a little fiddly. Mary Beth begins a purl stitch, making sure to bring the bead up and over the right needle. She pushes the bead to the Right Side of the fabric as she completes the purl stitch. All the beads are nearly invisible from the Wrong Side of the fabric.
Popular Tips & Techniques videos
Explore videos by Mary Beth Temple