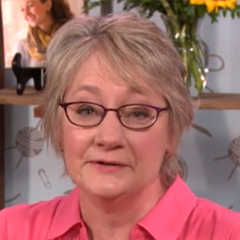 Three Tips for Better Knitting
Ann Budd
Ann Budd shares some knitting tips and tricks to help you power through any project. Find out how to achieve neater edges, join new yarn, and easily weave in ends securely.
To begin, Ann looks at selvedge edges of knitted fabric. These are the edges along the sides of your fabric, and they can either be used for seaming pieces together or will be a visible side edge to your project, like for a shawl or scarf. When the edge is going to show, Ann prefers a selvedge edge that forms a nice line of chain stitches. To achieve this, she works the first stitch of a row as follows:
– Right Side: Slip the first stitch knitwise with yarn in back
– Wrong Side: Slip the first stitch purlwise with yarn in front.
When the edges are going to be seamed, Ann prefers to use a garter stitch selvedge. For this type of edge, she knits the first and last stitch of every row (both Right Side and Wrong Side). This allows the second stitch from the edge to be tighter and neater, which looks much cleaner when the pieces are seamed together.
Ann continues by looking at how to join a new ball of yarn to a project. After much experimentation, she learned that she likes to join a new ball of yarn by knitting the old yarn and new yarn together for one stitch. When it's possible, she will work this stitch on a purl stitch on the Right Side of the fabric, because it allows that extra thick stitch to blend into the fabric.
The video concludes with Ann showing her method for weaving in ends. She crosses the two tails of yarn and when weaves them into the knitted fabric, splitting the plies of the yarn on the Wrong Side of the fabric. She then trims the yarn tail, leaving approximately one-quarter-inch of yarn tail. Ann "feathers" that tail, splitting the plies and making it a little fuzzy, so that it won't work its way to the Right Side of the fabric.