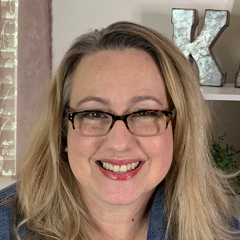 Understanding Stitch Pattern Repeats
Corrina Ferguson
If you enjoy exploring different stitch patterns, it's important to understand how pattern repeats work. In this video, knitwear designer Corrina Ferguson explains stitch pattern repeats.
Corrina looks at two different stitch patterns – a braided cable, which is worked over a multiple of 8 plus 2 stitches, and a lace stitch pattern that's worked over a multiple of 8 plus 1 stitches.
When a stitch pattern has a multiple plus a certain number of stitches, the extra stitches (plus 2 stitches and plus 1 stitch in the examples in the video) are used to center the stitch pattern on the fabric when working back and forth in rows. In the braided cable swatch, the "plus 2 stitches" adds two extra purl stitches to the fabric, which centers the cables on the fabric.
The lace swatch features a double decrease of sk2p (slip 1 stitch, knit two stitches together, pass the slipped stitch over). This decrease takes three stitches and reduces it to a single stitch. In stitch patterns that use double decreases, sometimes a single decrease needs to be worked on each side of the pattern repeat to balance the stitch pattern. This is the case with the rosary stitch, which Corrina shows in the video.
Once you understand stitch repeats, you can start to think about how to use stitch patterns interchangeably in your knitting projects.
Explore videos by Corrina Ferguson