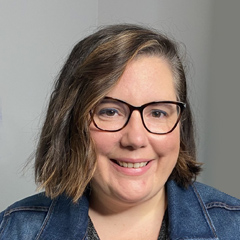 Altering Simple Stitch Patterns: Interrupted Rib
Jen Lucas
The Interrupted Rib Stitch pattern is an easy 4-row repeat pattern that is perfect for beginner scarves and baby blankets. In this video, Jen Lucas explores this stitch pattern and how you can alter the stitch pattern to suit you and your next knitting project.
INTERRUPTED RIB STITCH PATTERN
To begin, Jen looks at the conventional interrupted rib stitch pattern. It's worked over a multiple of 2+1 stitches, or an odd number of stitches.
Row 1 (RS): *P1, k1; rep from * to last stitch, p1.
Row 2 (WS): *K1, p1; rep from * to last stitch, k1.
Row 3: Purl all stitches.
Row 4: Knit all stitches.
Rep rows 1 – 4 for pattern.
ALTERING THE STITCH PATTERN
Jen looks at several more swatches of interrupted rib stitch patterns that have some change in them. First, she explores elongated interrupted rib, which is worked over 6 rows instead of 4 rows. The same number of stitches are used for this pattern, but the ribbing is worked for 4 rows, with the Reverse Stockinette stitch being worked for 2 rows.
She also looks at alternating interrupted rib. Once again, the same number of stitches are on the knitting needle, but the ribbing sections are alternated. Finally, she looks at changing the ribbing pattern itself. The swatch in the video features a 2×2 (knit 2 stitches, purl 2 stitches) ribbing. When changing the ribbing pattern, the stitch count will change as well. For this 2×2 interrupted rib, a multiple of 4 plus 2 stitches are needed.
ABBREVIATIONS
k: knit
p: purl
rep: repeat
RS: Right Side
WS: Wrong Side
Explore videos by Jen Lucas