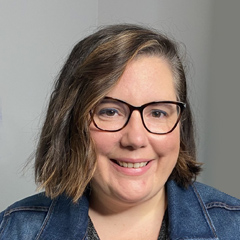 How to Work Reverse Stockinette Stitch in Rounds
Jen Lucas
Reverse Stockinette stitch is a fabric that has the purl ridges or bumps of Stockinette stitch showing on the right side of the work. In this video, Jen Lucas demonstrates how to work Reverse Stockinette stitch in the round.
When working back in forth in rows, Reverse Stockinette stitch is created by purling all the stitches on the Right Side and knitting all the stitches on the Wrong Side. However, when working in the round, the Right Side of the work is being worked on every round. This means that all the stitches need to be purled for every round. You'll often see Reverse Stockinette Stitch written as follows:
All Rounds: Purl all stitches.
This fabric creates a texture that is similar to garter stitch, while having a gauge of Stockinette stitch. It can be used in any knitting project and the fact that you are always working purl stitches makes it great for simple sweaters and shawls. You'll also find Reverse Stockinette stitch used to offset stitch patterns like cables and lace panels. It's a very versatile fabric!

Popular All Videos videos
Explore videos by Jen Lucas