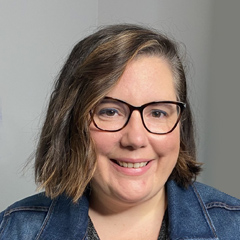 Pique Rib Stitch
Jen Lucas
The Pique Rib stitch is a beautiful stitch pattern that combines a traditional ribbing pattern with purl ridges. In this video, Jen Lucas demonstrates how to work the Pique Rib stitch.
While this stitch pattern is worked primarily in a rib-style pattern, it doesn't have the same elasticity and bounce as a traditional rib pattern. There is a great deal of Reverse Stockinette stitch, with purls on the Right Side of the work, so the Pique Rib doesn't snap back like other ribbing patterns.
PIQUE RIB STITCH
Jen works the stitch pattern over 4 rows on a multiple of 10 plus 3 stitches. She works the swatch as follows:
Row 1 (RS): K3, *p3, k1, p3, k3; repeat from * to end.
Row 2 (WS): P3, *k3, p1, k3, p3; repeat from * to end.
Row 3: Repeat Row 1.
Row 4: Knit all stitches.
Repeat Rows 1 – 4 for pattern.
Jen notes that on Row 2 of the pattern is worked by knitting the knits and purling the purls, making it easy to memorize this stitch pattern. On the other Wrong Side row, Row 4, the stitches are knit all the way across the row.
ABBREVIATIONS:
K: knit
P: purl
RS: Right Side
WS: Wrong Side
Explore videos by Jen Lucas