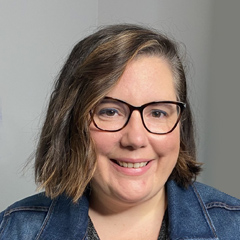 Two Easy Bind Off Methods for Shawls
Jen Lucas
You've spent hours and hours working on a beautiful shawl and now it's time to bind off. Which bind off you choose for your shawl is particularly important. If the final edge is too tight, you might find the shawl hard to block and the edge can even start curling up. With so many bind offs to choose from, how do you know which one is the right one for you? In this video, shawl designer Jen Lucas demonstrates how to work her two favorite bind offs for shawls.
KNIT TWO TOGETHER THROUGH THE BACK LOOP BIND OFF
This bind off is quite easy and quick to work. Jen demonstrates how to work this bind off, following these steps:
1. Knit two stitches together through the back loops. You now have one stitch on the right needle.
2. Slip the stitch purlwise from the right needle back to the left needle.
Repeat these two steps until you have one stitch remaining on the needle. Use your scissors to cut your yarn, leaving a yarn tail of 6 to 8 inches in length to weave in later. Remove the final stitch from the needle and pull the tail through the loop to secure it.
ELASTIC BIND OFF
To work the elastic bind off, Jen follows these steps:
1. Knit two stitches.
2. Bring the left needle through the front of the two stitches on the right needle and knit the two stitches together through their back loops (k2tog tbl)
3. Knit one stitch.
Repeat steps 2 and 3 until one stitch remains on the right needle. Cut yarn and bring yarn through the final stitch to fasten off.
Either bind off is perfect for top-down and sideways shawls. What bind off do you like to use for your shawls?
One

Response to "Two Easy Bind Off Methods for Shawls"
Explore videos by Jen Lucas