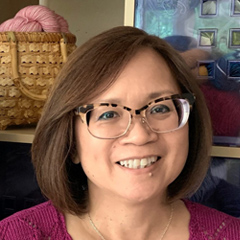 Blocking a Lace Shawl
Michele Lee Bernstein
Once the knitting on a lace shawl is complete, you'll likely want to block the piece in order to open the lace and fully show the beauty of the stitches. In this video, shawl expert Michele Lee Bernstein demonstrates how to wet block a lace shawl.
Wet blocking is commonly used on items that were knit in an animal fiber, like wool. Michele blocks a small shawl swatch in a bowl of water. For larger items, she wet blocks using her kitchen sink. To block, she dunks the shawl into lukewarm water and adds some no-rinse wool wash. She ensures that the shawl is fully immersed in the water and allows it to soak for at least 20 minutes. By leaving the shawl in the water for an extended period of time, the fibers become fully saturated.
Michele removes the shawl from the water, gently squeezing out the excess water. She uses a towel to further remove the water from the shawl. To block the shawl, it needs to be damp.
She gathers the following tools to aid in the blocking process:
Blocking mats
Blocking Wires
Rust-Proof T-Pins
Flexible Tape Measure
The shawl is placed on the blocking mats and flattened out to block. The top edge is pulled straight with blocking wires and the bottom edge is blocked out to create beautiful, scalloped points. Once the shawl is completely dry, it can be removed from the blocking mats.
Popular All Videos videos
Explore videos by Michele Lee Bernstein