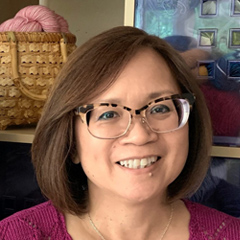 Carrying Two Yarns in Your Right Hand for Stranded Colorwork
Michele Lee Bernstein
Stranded colorwork is a beautiful technique that creates interesting designs in your knitting. In this video, Michele Lee Bernstein shares an easy method for carrying two yarns in your right hand while working stranded colorwork projects.
When working Fair Isle designs, some knitters will pick up and drop each yarn as they are knitting. Others will place one yarn in their right hand and one yarn in their left hand. If you typically knit using the English (or throwing) method, you may find that carrying both yarns in your right hand is more comfortable and natural.
To begin, keep the dominate yarn on the left side and the background yarn on the right side. Michele brings her index finger on her right hand between the two yarns, with the dominate yarn going over the top of her finger and the background yarn going underneath. The working yarns are kept loosely in her hand as she works the Fair Isle pattern. When working with the background yarn, Michele turns her wrist to then knit with the yarn. For the dominate yarn, she knits a stitch with the yarn resting over the top of her index finger. To keep an even tension and to prevent the stitches from puckering, Michele spreads the stitches on the knitting needle out evenly as she knits.
The video ends with a discussion on yarn dominance in stranded colorwork. Michele notes that it is important to keep the yarns oriented in the same way throughout the project. The yarn on the left should always be going over the top of the finger, and the yarn on the right will be worked from underneath the index finger.
Popular All Videos videos
Explore videos by Michele Lee Bernstein