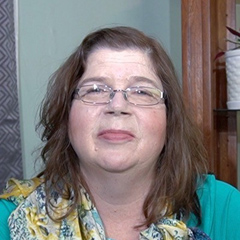 Embellish Your Knits: Surface Chains with Crochet Hook
Mary Beth Temple
There are many ways to embroider and embellish your knits. In this video, crochet expert Mary Beth Temple shows you how to use a crochet hook to create surface chains to embroider your knitting.
Mary Beth suggests using this surface chain technique for designs that have long vertical columns. For embroidery that's worked horizontally, she prefers to use duplicate stitch. The surface chains are created by using a contrasting color yarn and a crochet hook that is similar in size to the knitting needle used for the project.
To begin, Mary Beth holds the yarn to the back of the work, leaving a 4- to 6-inch tail that will be woven into the project once it is complete. She takes the crochet hook into the center of a stitch from the front of the work to the back. She works a yarn over onto the hook and pulls the hook back through to the front of the work. She then goes into the center of the next stitch from front to back, works a yarn over, and pulls it through with the hook to the front, the brings the loop through the other loop on the hook to create a chain.
This process is repeated to make several chains. She demonstrates the yarn over worked on the back of the piece by flipping over her knitted fabric to the Wrong Side, but notes that it is not necessary to flip your fabric over. The yarn overs can be created at the back while the Right Side is always facing.
Once the chains are complete, Mary Beth demonstrates how to finish off the chain by bringing the yarn tail through the final chain to the front of the work. This secures the last chain, and the tail is brought to the Wrong Side so that it can be woven into the project. She also explains how to easily remove the surface chains from the project if you make a mistake or want to change the design.
Popular All Videos videos
Explore videos by Mary Beth Temple