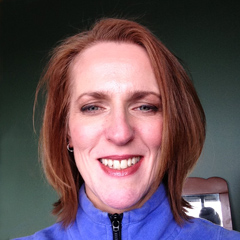 English Ribbing
Jill Wright
English ribbing is a versatile ribbing stitch pattern that creates a thick, lofty fabric. In this video, Jill Wright demonstrates how to work this stitch pattern.
Jill has a completed swatch of English ribbing and notes that it looks beautiful on both the Right Side and the Wrong Side of the piece. While the fabric is not identical on both sides, this stitch pattern can be considered reversible as both sides are equally lovely.
To work English ribbing, cast on an odd number of stitches. Jill has a small swatch with eleven stitches on the needle. The ribbing is worked over two rows as follows:
Row 1 (RS): Knit all stitches.
Row 2 (WS): *P1, K1-B; repeat from * to last stitch, P1.
Repeat Rows 1 and 2 for pattern.
When knitting one below (K1-B), Jill works the knitting needle under the purl bump below the stitch on the needle as if to knit and knits the stitch. She works a few more rows of the English ribbing to show how the fabric is formed. She notes because of its thickness, it's a very warm fabric that is perfect for projects for winter.
ABBREVIATIONS:
K1-B: knit one stitch below the stitch on the knitting needle
P: purl
RS: Right Side
WS: Wrong Side
Popular All Videos videos
Explore videos by Jill Wright