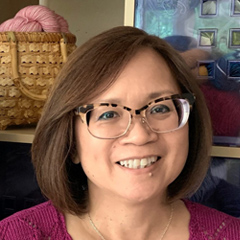 Fixing a Dropped Brioche Yarn Over
Michele Lee Bernstein
With any knitting technique, mistakes sometimes happen. Most of the time, these mistakes can be corrected without having to rip out a large portion of your knitting. In this video, brioche knitting expert Michele Lee Bernstein demonstrates how easily to fix a dropped yarn over in your brioche project.
A dropped yarn over is one of the most common mistakes in brioche knitting. Michele shows a swatch where you can clearly see a dropped yarn over several rows down on her swatch. To fix this dropped yarn over, Michele has a few notions to help her with the repair.
Small crochet hook or double-pointed needle
Cable needle
Locking stitch marker
Michele looks closely at the swatch, noticing that the yarn overs are coming behind the knit stitches. She identifies where the yarn over is missing and uses the locking stitch marker to isolate that stitch. With the small double-pointed needle, she slowly drops the stitches down to where the error occurs. While dropping the stitches, she ensures the yarn overs are staying to the back of the stitches, and she captures the dropped stitches with the cable needle. Once she reaches the mistake, she moves the yarn over to the back and takes the small crochet hook and works the stitches on the cable needle back up to her working knitting needle. The mistake has been fixed and she continues working the row.

Popular All Videos videos
Explore videos by Michele Lee Bernstein