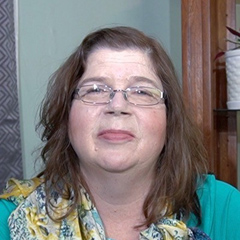 Get to Know Your Pattern: Parts of a Pattern
Mary Beth Temple
Knitting patterns contain a wealth of information to help you knit the project correctly. In this video, Mary Beth Temple gives an overview of the parts of a knitting pattern by looking at a two-color shawl pattern.
A knitting pattern will begin by listing the finished measurements and gauge needed for the pattern. Mary Beth notes the importance of getting proper gauge when following a knitting pattern. The materials and specific yarn used are also listed on the patten. The abbreviations are commonly listed in alphabetical order, and it's important to review them before beginning the pattern so that you'll know what stitches will be used.
Mary Beth then looks at the instructions section for the shawl pattern. She notes the headers that separate each section of the shawl. If looking at a sweater pattern, you might see heads such as Front, Back, and Sleeves. Each designer has their own way of organizing the information in their patterns.
Related Pattern: Apple River Shawl
Explore videos by Mary Beth Temple