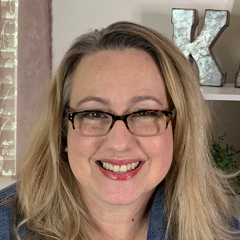 How to Make Tassels for Your Knitting Projects
Corrina Ferguson
A tassel is the perfect embellishment to add to your knitting project! You can add it to just about any project for a fun detail. Corrina Ferguson will take you step by step through the process of making a tassel for your next project.
TASSEL COLOR AND SIZE
Tassels can be made in a variety of sizes and in all different types of yarn. In the video, Corrina shows tassels made in a smooth worsted weight yarn. The yarn is three different colors, which creates an interesting look in the tassel. The tassels are made to three lengths—short, medium, and long. The short tassel is fluffier than the other two and the long tassel has a look like a graduation tassel. You can choose the tassel length that suits you and your project.
ASSEMBLY
To make your tassel, use a piece of cardboard that is approximately 1⁄2" longer than the tassel length desired. A small amount of length is lost from tying the tassel and in trimming the yarn at the end. To wrap the yarn around, use three strands of yarn to minimize the total number of wraps you need to do. Once wrapped, a knot is added to the top, with long ends left to attach the tassel to your project. Trim the yarn at the opposite end to remove the tassel from the cardboard. Yarn is then wrapped around the strands of yarn to create the head of the tassel. Now that the tassel has been created, use scissors to trim the bottom so that the yarn strands are even.
Tassels can be added on everything from shawls to hats to corners of afghans. It's a fun way to use up the leftover yarn from a project and give some extra interest to your finished project.
Popular All Videos videos
Explore videos by Corrina Ferguson