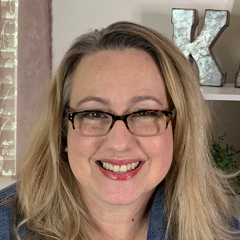 Polishing Your Seams: Tips for Tidy Seams
Corrina Ferguson
Seaming knitting together is an important part of many knitting patterns, particularly sweater patterns. In this video, sweater designer Corrina Ferguson shares some of her tips for polishing your seams so that they are looking their best for your next sweater project.
EXPOSED SEAMS
Corrina discusses whip stitch seams and mattress stitch seams and how they can be worked so that they provide a decorative detail to your piece. For example, both seams can be worked so that they are exposed to the front or Right Side of the garment. With whip stitch, a coordinating color of yarn can be used so that the seam is more visible and decorative.
NEATER LINES
To create a neater seam, Corrina suggests always using a smooth yarn to work the seams in a project. If the yarn used for the project is fuzzy or thick & thin, you might find it beneficial to find a smooth yarn in the same color to work the seams. She also suggests leaving a single selvedge stitch, worked in Stockinette (Knit on Right Side/Purl on Wrong Side) to make seaming, especially mattress stitch, easier to work. If the project has patterning or shaping, avoid working them into the last stitch as it makes seaming more difficult.
MAKING ADJUSTMENTS
When seaming a larger project like an adult sweater, some of the seams can be long, and adjustments may need to be made for the pieces to match up. Corrina suggests starting the seam in a more visible place and ending the seam in a less visible place. In the video, she suggests starting a side seam at the bottom of the sweater and finishing it in the underarm of the piece. That way, if adjustments need to be made to make the pieces line up, those adjustments aren't as visible when wearing the garment.
With these tips for tidy seams, your next piece is going to look polished and professional!
Explore videos by Corrina Ferguson