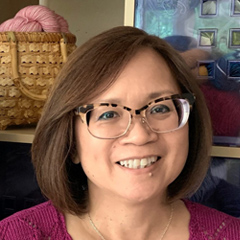 Russian Bind Off
Michele Lee Bernstein
Having a stretchy bind off edge is critical in projects like toe-up socks or cowls. In this video, Michele Lee Bernstein demonstrates how to work the Russian Bind Off, which is a great bind off to have in your knitting tool bag.
Michele works the bind off using knit stitches. She works the steps of the Russian Bind Off as follows:
Knit 1 stitch.
Move the stitch from the right needle to the left needle, leaving the right needle going through the stitch.
With the right needle still going through the first stitch on the left needle, knit the next stitch on the left needle, bringing the yarn through both stitches to knit them together.
Repeat steps 2 and 3 until one stitch remains. Cut yarn and pull through the final stitch to fasten off.
Once the Russian Bind Off is complete, Michele compares it to a conventional knitwise bind off. While both bind offs look similar and have a chained edge, the Russian Bind Off is much looser, providing additional stretch to the final edge of the piece.
Popular All Videos videos
Explore videos by Michele Lee Bernstein