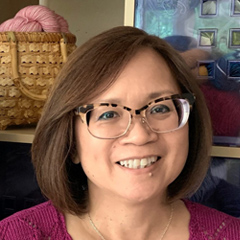 Twisted Stockinette Edge
Michele Lee Bernstein
Adding a decorative edging to your knitting project can really turn up the volume and add pizzazz to your project. In this video, Michele Lee Bernstein demonstrates how to work a Twisted Stockinette Edge. This edging is perfect for the top of a cuff-down sock or the bottom of a bottom-up sweater.
This decorative edge can be worked in other stitch patterns besides Stockinette stitch. A twisted edge will work in stitch patterns such as garter stitch, seed stitch, and moss stitch. Michele prefers the twisted Stockinette stitch edging because of the contrast of knit and purl stitches.
The Twisted Stockinette Edge is worked by casting on a multiple of 6 stitches and working in Stockinette stitch (knit on Right Side/purl on Wrong Side) for 6 rows. The twist happens on the next Right-Side row, following these steps:
1. Knit 6 stitches.
2. Twist fabric by turning the left needle away from you and under the knitting.
Repeat steps 1 and 2, ending the row by knitting 6 stitches. Michele notes that if you are using this decorative edge on something that will be knit in the round (like a cuff-down sock), this edging will need to be worked flat. Once the edging is complete, the knitting can be joined in the round at that time.
Explore videos by Michele Lee Bernstein