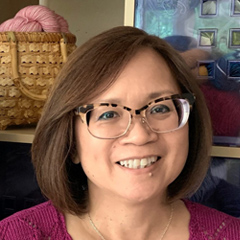 Yarn Color Dominance in Stranded Knitting
Michele Lee Bernstein
Stranded colorwork is a technique where more than one color of yarn is used on a row (or round) of knitting. When working this type of colorwork, it's possible to control the color dominance in the project. In this video, Michele Lee Bernstein demonstrates how yarn color dominance in stranded knitting works.
To begin, Michele shows a swatch of a two-color checkerboard pattern. In the top section of the swatch, the dark checks are slightly more prominent than the white checks. In the bottom section of the swatch, the white checks are more prominent. This is due to how the yarn is arranged while the swatch was being worked.
Michele points out that every knitter should work a little colorwork swatch to determine how the yarn should be arranged for the way that they knit. She notes that for most people, the background color should stay to the right and the prominent color should stay to the left. The reason for arranging the yarns in this way is that the strands on the Wrong Side of the work stay close to the needle for the background color. For the prominent color, the strand is lower, meaning that a little more yarn goes into the stitch, making it slightly taller and more prominent.
Michele shows another swatch where vertical columns are created with stranded colorwork. She once again discusses color dominance, as each section of the vertical columns was worked with a different color as the dominant, or prominent, color.
Explore videos by Michele Lee Bernstein