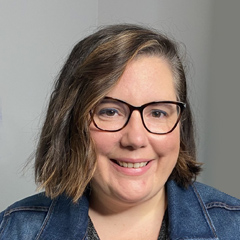 How to Avoid Loose Stitches at end of Bind Off
Jen Lucas
When it comes time to bind off your knitted masterpiece, there are so many options to choose from. You can work decorative bind offs or stretchy bind offs, and there are a wide variety of ways to do each one. But what about the basic bind off? Maybe you've noticed a loose stitch at the end and wondered how to get rid of that pesky loop. In this video, Jen Lucas demonstrates how to avoid the loose stitch at the end of a bind off.
Jen notes that with many standard bind offs, the last stitch can sometimes end up looking loose and loopy. It's not necessarily a problem; you can use a tapestry or yarn needle to weave in the end to hide this issue. However, there is an even easier way to avoid this loose stitch – knit two stitches together at the end of the bind off.
Working on a swatch of garter stitch, Jen works a traditional knitwise bind off until two stitches remain on the left-hand needle. She works a k2tog (knit two stitches together), to reduce to the two stitches down to a single stitch. With two stitches remaining on the right-hand needle, she passes the first stitch over the second stitch to complete the bind off. Jen notes that working this simple decrease on the last two stitches of the bind off row makes the final stitch a little tighter, and less "loopy" at the corner of the fabric. With the bind off complete, Jen weaves in the end of her bind off edge and compares it the swatch to the swatch with the loose stitch at the end.
Do you have any favorite bind off tricks or hacks?
Popular Core Skills videos
Explore videos by Jen Lucas