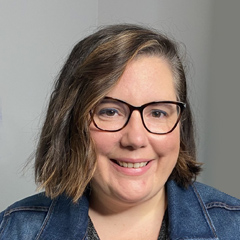 Knit in the Round Using the Traveling Loop Method
Jen Lucas
There are many ways to knit in the round. Which method you use is often dependent on the type of project you are working. For small-circumference knitting, like mitten and sock knitting patterns, you might use double-pointed needles, two circular needles, or a long circular needle to work the magic loop method. For a project like a hat, many patterns are written such that you are using one 16-inch circular needle and then switching to double-pointed needles when you get to the crown decreases.
Don't have those double-pointed needles handy? No worries—you can use something called the traveling loop method. In this video, knitting expert Jen Lucas demonstrates how to work this method on a project worked in the round.
Jen discusses that the traveling loop method is great for when you don't have those double-pointed needles handy and the stitches on your project are getting spread out on the needle. This method is similar to the magic loop method of knitting, except here you will only have a single loop of the flexible cord of the circular needle off to one side of the project. While working this method, when you feel the stitches starting to get too spread out, tight or difficult to knit, simply pull on the right needle to pull a length of cord out from the stitches. Bring the right needle around to continue working your project. You can move your traveling loop whenever it is necessary.
Have you ever used the traveling loop method? Tell us about it in the comments!
Popular Tips & Techniques videos
Explore videos by Jen Lucas