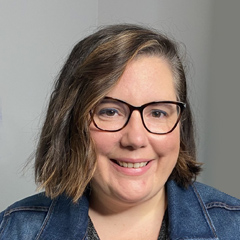 Reversible Checkerboard Pattern
Jen Lucas
The Reversible Checkerboard stitch pattern is a stitch pattern that uses only knit stitches and purl stitches to create the fabric. The squares of the stitch pattern are made by working sections of Stockinette stitch and Reverse Stockinette stitch. In this video, Jen Lucas demonstrates how to knit this stitch pattern.
Jen begins by showing a completed swatch of the stitch pattern. She notes that it is reversible, but there is a subtle difference on the Wrong Side. She looks at the first set of boxes made at the bottom of her swatch. The squares begin and end with Stockinette stitch boxes. However, when you turn over the swatch to look at the Wrong Side, the squares begin and end with Reverse Stockinette stitch. To make the stitch pattern truly reversible, and make both sides identical, the "plus 4" of the stitch count would need to be eliminated. Jen prefers to have these extra stitches so that the stitch pattern is centered on the knitted fabric.
REVERSIBLE CHECKERBOARD STITCH PATTERN
Working the stitch pattern over a multiple of 8 plus 4 stitches, Jen works the following rows on her swatch:
– Row 1 (RS): *K4, p4; rep from * to last 4 sts, k4.
– Row 2 (WS): *P4, k4; rep from * to last 4 sts, p4.
– Row 3: Rep Row 1.
– Row 4: Rep Row 2.
– Row 5: *P4, k4; rep from * to last 4 sts, p4.
– Row 6: *K4, p4; rep from * to last 4 sts, k4.
– Row 7: Rep Row 5.
– Row 8: Rep Row 6.
Rep Rows 1 – 8 for pattern.
Jen notes that you can easily work the Reversible Checkerboard stitch patterns with other stitch counts, to create different sized squares in the checkerboard. She shows a swatch where she worked the pattern using a multiple of 12 plus 6 stitches, worked over 12 rows.
ABBREVIATIONS:
k: knit
p: purl
rep: repeat
RS: Right Side
WS: Wrong Side
Explore videos by Jen Lucas