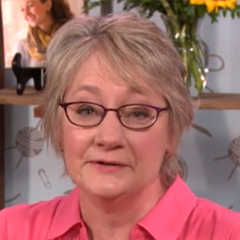 Fixing Dropped Edge Stitches in Your Knitting
Ann Budd
Dropped selvage stitches might seem like a disaster, but once you see how easily Ann Budd picks them up again, you'll know you can, too!
It's fairly simple to fix a dropped stitch in the middle of a row – but what about if you have dropped a stitch along one of the side edges of your knitting project? Ann begins by dropping some edge stitches intentionally off the needle in order to fix them. When the stitch has only dropped down by one row, Ann notes is a pretty easy fix – she simply uses a crochet hook to pick it back up, bringing it through the working yarn, and placing it on the needle in the correct orientation.
There are instances, however, where an edge (or selvedge) stitch has dropped down several rows. It looks pretty intimidating, as there are large loops coming off your knitted fabric. Working from the bottom up, each loop has two strands – Ann works through the bottom strand of the loop, then the top strand. She continues working in this fashion through the loops until she can place the stitch back on the needle. Once she completes fixing a single dropped edge stitch, she continues by demonstrating how to fix the edge when more than one stitch is dropped.
Remember, fixing dropped edge stitches might seem daunting at first. However, for most knitting projects, it's going to be much faster to fix the dropped stitches than to rip out several rows of knitting and re-knitting to fix the error.
Have you ever dropped an edge stitch? How did you fix it?
Popular Fixing Mistakes videos
Explore videos by Ann Budd