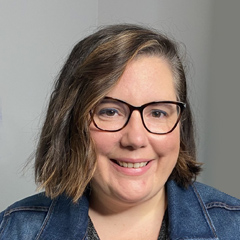 Fun Knitting Tools
Jen Lucas
The longer you knit, the more knitting tools you might find to add to your collection. While you obviously only need knitting needles and a ball of yarn to get started on your knitting journey, you might find that there some other supplies and tools that are nice to have. In this video, knitting expert Jen Lucas shares some of her favorite things that she has collected over the last 20 years of knitting and that she uses on a regular basis. She notes that none of these are required to have a great knitting experience, but these are items that she finds fun and useful to her and her knitting needs.
Jen begins by talking about a yarn swift and a ball winder. These tools are particularly useful if you are a knitter that uses a lot of hand-dyed yarns or yarns that come in a hank. While it is possible to knit from a hank, winding the yarn into a ball does make for an easy knitting experience. Jen then demonstrates how to put a hank of yarn onto the swift and discusses how you would take that yarn and wind it into a ball with the ball winder.
There are other tools that Jen uses that are handmade and are nice to have. Many of these items are also mass-produced, but Jen prefers to pick up a handmade version from a small business when possible. She looks at needle gauges, sock rulers, sock blockers, and even knitting jewelry.
Do you have any fun knitting tool must-haves? Let us know in the comments!
Explore videos by Jen Lucas