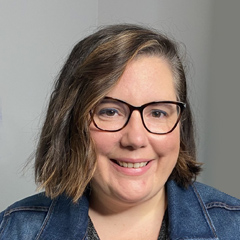 Converting a Stitch Pattern from Flat to the Round
Jen Lucas
Most knitting stitch pattern dictionaries show you how the pattern is worked when it is knit flat, back and forth in rows. But what if you want to convert that pattern to in the round? In this video, knitting designer Jen Lucas discusses how you can take a pattern that is worked flat and use it for your circular knitting projects.
The first stitch pattern Jen reviews is a simple 2×2 (knit two stitches, purl two stitches) ribbing pattern. When she works this stitch pattern flat, she works over a multiple of 4 plus 2 stitches. This allows you to both start and end with the same stitches, centering the stitch pattern on the fabric. However, when you knit this pattern in the round, if you include the "plus 2," you end up with four knit stitches together where the beginning and end of the round meet. By simply dropping the two extra stitches from the stitch count and casting on a multiple of 4 stitches, the pattern is continuous.
For both stitch patterns, Jen compares the chart for flat knitting versus in the round knitting. She reviews how to read a chart and how to convert a chart from flat to in the round. She then looks at some swatches of a lace pattern. For this particular lace pattern, there is one extra stitch used in the pattern when worked flat. This allows the lace to be centered on the fabric, just like the extra stitches did in the first ribbing example. When worked in the round, that extra stitch is eliminated, and the pattern is worked simply over a multiple of 10 stitches.
Have you ever converted a pattern from flat to in the round? Let us know in the comments!
Popular Simple Stitch Patterns videos
Explore videos by Jen Lucas