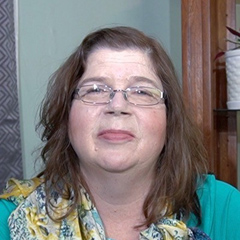 Fixing Mistakes in Lace Knitting
Mary Beth Temple
Like any technique, mistakes can happen when knitting lace patterns. Fortunately, lace knitting mistakes can be fixed, often without ripping out an entire project. In this video, Mary Beth Temple demonstrates how to fix a mistake in lace knitting.

Mary Beth has a swatch of a leaf lace pattern. The examines her work and notices an error at the center of the piece. She has knit three stitches where there should have been a yo, sk2p, yo, where sk2p is slip one stitch purlwise, knit two stitches together, pass the slipped stitch over. She slips stitches from the left needle to the right needle until she gets to the point where the mistake has occurred. Mary Beth carefully drops down the three stitches to the mistake and places the stitches onto a smaller knitting needle. She uses the smaller knitting needle because it's easier to grab the stitches. She will use her original project needle to fix the mistake.
Once the stitches are secured on the needle, Mary Beth demonstrates how to work the lace one row at a time back up to working needle. She also notes that if repairing this mistake becomes too difficult, be sure to use lifelines. By using a lifeline, she can simply rip out the lace to lifeline and reknit it.
Popular All Videos videos
Explore videos by Mary Beth Temple