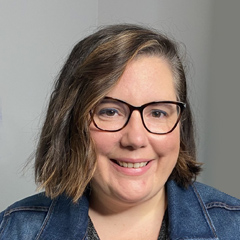 Circular Cast On
Jen Lucas
There are literally dozens of ways to cast on for a knitting project. Depending on the project and the look you're going for, you can choose any number of cast ons for your projects. When it comes to starting a project from the center out, one where you want that center to be completely closed, there is a cast on that stands above the rest—the Circular Cast On. In this video, knitting expert Jen Lucas demonstrates this useful cast on with both a long circular needle as well as double-pointed knitting needles.
The benefit of the circular cast on is that it allows you to work your knitting project from the center out and have a completely closed center. Jen compares it to the magic or adjustable ring/loop found in crochet. This particular cast on acts quite similar to its crochet counterpart—once you have the stitches created, you can pull on the beginning yarn tail to close the loop and are left with a tight start to your knitting project.
Starting with a loop of yarn, Jen works her knitting needle in and out of the beginning loop to add stitches to her needle. She notes that it's important to work this cast on with an odd number of stitches, in order for the stitches to be locked into place in the loop. Once an odd number of stitches are cast on, the next round can be worked normally, most often with a round of knit stitches.
Next time you're starting a project like a toy or pi shawl, try this cast on and see how you like it—this one may just become one of your new favorites!
Explore videos by Jen Lucas