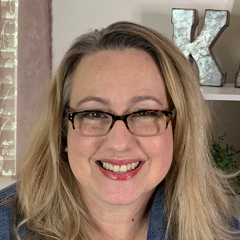 How to Block a Sweater
Corrina Ferguson
After spending a great deal of time knitting pieces of a sweater, blocking those pieces is an important next step for assembling the sweater and having your project look its best. In this video, knitting expert Corrina Ferguson shares tips and tricks for blocking sweater pieces.
BLOCKING TOOLS
A few tools are needed in order to complete the blocking process:
– Blocking mats
– Rust-proof pins
– Ruler or tape measure
– Blocking wires
To begin, soak the sweater pieces in lukewarm water and add a wool wash, if desired. Let the pieces soak for at least 20 minutes. Gently squeeze the water out of the pieces. You might find it helpful to wrap the pieces in a towel and step on them to remove the excess water. The pieces are then blocked to the measurements given in the pattern, found on the schematic.
As Corrina mentions, it's important to let the pieces completely dry before removing them from the blocking surface. If they are removed while still damp, they will not hold the shape to which they were blocked. Once the blocking is complete, the sweater is ready to be seamed and worn.
Explore videos by Corrina Ferguson