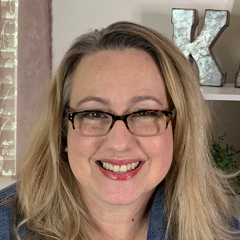 Cables with Decreases
Corrina Ferguson
The possibilities are nearly endless when it comes to cable knitting. There are so many different cable patterns to learn and use in your knitting projects. One fun technique that can be used in cable knitting is that the cables can be increased or decreased in size. These increases and decreases can be used for decorative purposes to add interest to the cable pattern, and they are also used as an interesting way to shape a piece like a hat or sweater. In this video, Corrina Ferguson demonstrates how to work a decrease in the middle of a cable row.
Corrina is using a traditional 6-stitch cable pattern, the C6F (cable 6 front) and wants to decrease it to create a C4F (cable 4 front) cable. On the cable row, she decreases as follows on the 6 stitches for the cable:
1. Slip 3 stitches purlwise to cable needle, hold in front of work.
2. K1, K2tog.
3. Ssk, k1 from cable needle.
The cable has been decreased from 6 stitches to 4 stitches. This decreases the overall stitch count of the fabric, making it a great technique for shaping projects with cables. This technique can be applied to many other cable patterns to easily shape your cable projects.
ABBREVIATIONS:
K: knit
K2tog: knit two stitches together
ssk: slip a stitch as if to knit to right needle, slip a second stitch as if to knit to right needle, slip both stitches back to left needle and knit together through the back loops
Explore videos by Corrina Ferguson