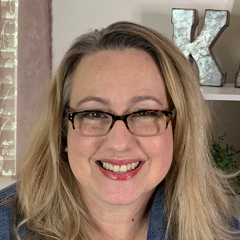 Cat's Eye Stitch
Corrina Ferguson
Reversible mesh lace patterns are versatile stitch patterns, perfect for projects like shawls and scarves. In this video, lace expert Corrina Ferguson demonstrates the Cat's Eye Stitch, a reversible mesh stitch pattern.
Corrina begins by discussing how the stitch pattern is constructed. Most stitch patterns are worked over an even number of rows, making a Right Side and Wrong Side of the fabric. However, with this stitch pattern, the row repeat is 3 rows, making it truly reversible.
As Corrina works the stitch pattern, she notes that on Row 2 of the pattern, the overall stitch count is decreased. Increases are then worked on the next row to get the stitch count back to its original number. This is achieved with an (k1, p1, k1) into the yarn over increase on Row 3.
CAT'S EYE STITCH
This stitch pattern is worked over a multiple of 4 stitches and 3 rows as follows:
Row 1: Knit all sts.
Row 2: K2, *yo, sk3p; rep from * to last 2 sts, k2.
Row 3: K2, *k1, (k1, p1, k1) into yo; rep from * to last 2 sts, k2.
Repeat Rows 1 – 3 for pattern.
Special Stitches
sk3p – slip 1 stitch, knit 3 stitches together, pass the slipped stitch over (triple decrease – 4 stitches decreased to a single stitch)
ABBREVIATIONS
k: knit
p: purl
rep: repeat
st(s): stitch(es)
yo: yarn over
Explore videos by Corrina Ferguson