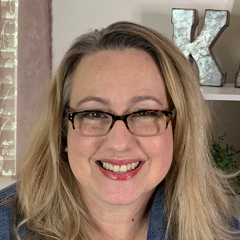 Yarn Put Ups: Different Ways Yarn Is Wound
Corrina Ferguson
Yarn comes wound in a variety of ways. In this video, knitting expert Corrina Ferguson explains the terminology for yarn put ups.
A put up is the way in which the yarn is wound. There are four ways yarn is commonly available: skein, ball, hank, and cake. Corrina shows a skein of yarn, which has an oval shape. It's how many craft store and mass-produced yarns are presented. The yarn can be worked from the outside or the inside, although Corrina notes that it's sometimes difficult to find the center of the yarn on the inside of the skein.
A ball of yarn is usually smaller than a skein, typically weighing 50 grams or less. Like the skein, the yarn can be worked from the outside or the inside of the ball. Corrina mentions that it's typically easier to work from the center or inside of ball than it is with a skein of yarn.
Next, Corrina shows a hank of yarn. The hank is a large loop of yarn that is twisted together. This yarn needs to be wound before knitting. The yarn can be wound by hand or can be wound with a ball winder and yarn swift. The final put up is a cake of yarn. Many indie-dyed gradient yarns come in a cake, so you can easily see the color changes. Also, when winding yarn on a ball winder, the result is a yarn cake. This can also be knit from the outside or from the center.
Often the word "skein" is used to refer to yarn put ups in general. Corrina mentions that many knitters also refer to hanks as skeins.
Popular All Videos videos
Explore videos by Corrina Ferguson