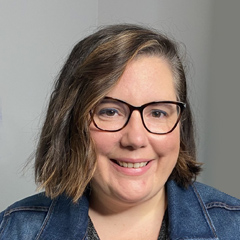 Determining Stitch Counts for Hats
Jen Lucas
Knitting hats will forever be a popular knitting project for knitters of all skill levels. There is no shortage of knitting hat patterns out there in the world; however, sometimes you want to just take the yarn you have on hand and start knitting a hat without following a real pattern. In this video, knitting expert Jen Lucas discusses how to determine stitch counts for knitting a hat of any size.
To begin, Jen looks at the yarn label on a skein of worsted weight yarn. This particular yarn recommends a gauge of 20 stitches equal to 4" (10 cm) using US Size 7 (4.5 mm) knitting needles. Jen divides 20 by 4 to get 5 stitches per inch.
The next thing to consider is who is going to be wearing the hat. You may know the head circumference of you and your friends and family from past hat-knitting endeavors; but if you aren't sure about what size to make, Jen recommends checking out the Craft Yarn Council's head circumference chart.
Jen then works through an example for knitting a hat for her head, which has a 22" circumference. She discusses negative ease, accommodating for different stitch patterns, particular ribbed stitch patterns, and how the information on the yarn label is simply a jumping-off point for figuring out the stitch count for your hat.
Explore videos by Jen Lucas