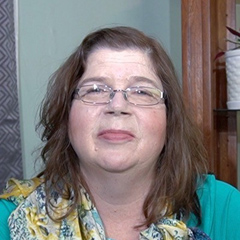 Comparing Short Row Methods: Which One Should I Use?
Mary Beth Temple
Knitting short rows in your projects doesn't have to be daunting. There are many ways that you can work short rows, and in this video, knitting expert Mary Beth Temple compares five common short row methods so you can choose the best one for you and your project.
Mary Beth has swatches for five knitted short row methods:
– Wrap & Turn
– Shadow Wrap
– German Short Row
– Japanese Short Row
– Yarn Over Short Row
Each short row technique has advantages and disadvantages. Mary Beth notes that it's important to consider not only what each one looks like, but to also think about which one is the most comfortable and enjoyable for you to knit. Most knitting patterns call for the wrap & turn method—but with a little planning, you can substitute the short row of your choice.
Two of the techniques that have the most "cupping" are the wrap & turn and the shadow wrap. Because of the way the fabric moves with these short rows, it makes them a great choice for heels of socks.
The other three techniques are a little "flatter" in appearance. The German Short Row and Japanese Short Row look almost invisible to Mary Beth's eye. She notes that this makes them a great choice for shaping in a sweater. Use these short rows for things like collar, shoulder, bust, and hip shaping. The Yarn Over Short Row is great for shaping your knits as well, and Mary Beth mentions that she found this technique the easiest to memorize while knitting.
Which short row you decide to use will depend on your project and which one you find the most enjoyable to knit. So go forth and pick the short row technique that makes you happy!
Explore videos by Mary Beth Temple