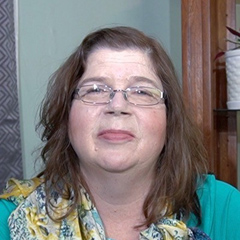 Comparing Beading Methods
Mary Beth Temple
Adding beads to a knitted fabric is a fun technique to add a little sparkle and dazzle to even the simplest of projects. There are different ways to place beads into your knitting, each method having its pros and cons. In this video, knitting expert Mary Beth Temple compares two methods for adding beads to your knitting project.
PRE-STRINGING BEADS
Mary Beth examines two swatches, the first one being worked with the beads pre-strung onto the yarn. All the beads were added to the yarn before starting to knit. The beads are on a slight angle, as they only go through one leg (or strand) of the stitch. While this method can be used on knit or purl stitches, Mary Beth personally finds this method to be a little cumbersome when working on a purl row. She does like this method because she can work a little faster, since the beads are all ready to go on the yarn. She notes, however, if using a yarn with halo or embellishment, this method will shave off the halo from the friction of the yarn traveling through the bead. This makes pre-stringing a good method for smooth yarns only.
ADD BEADS AS YOU GO
When adding beads as you go, the beads sit straight up and down on the fabric. This is because the bead is going through both legs (or strands of the stitch). This method is Mary Beth's preferred beading technique when using a yarn with a halo or embellishment like glitter because the bead isn't passing through all the yarn. By placing one bead at a time, the halo or embellishment remains on the yarn. Mary Beth likes using this method for projects like scarves and shawls, as the beads show up equally on both the Right Side and Wrong Side of the fabric.
Both methods are a great way to add pizzazz to your project. Which one do you prefer?
Popular Tips & Techniques videos
Explore videos by Mary Beth Temple