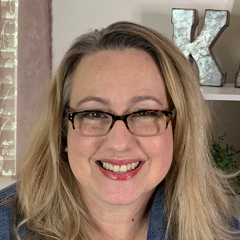 How to Knit a Striped Button Cowl
Corrina Ferguson
The Carnivale Cowl is a simple-yet-stunning two-color cowl pattern that you can find in the pattern shop here at The Knitting Circle. In this video, the designer of the cowl, Corrina Ferguson, demonstrates the important steps on how to knit this fun accessory.
YARN AND CONSTRUCTION
The cowl is worked in two different yarns, both in color and yarn weight. The piece is knit sideways, beginning with a garter stitch buttonhole band. The remainder of the piece is worked in alternating sections of Stockinette stitch in a thin, fuzzy yarn and in garter stitch that's worked in a thicker variegated yarn.
COWL
Corrina uses the one-row buttonhole method in the first garter stitch section of the cowl to create the buttonhole band. She prefers this method for creating a buttonhole as it makes a hole that is tidy and sturdy. Once this band is created, she continues by explaining how the loose, ruffled Stockinette stitch is made. The yarn is carried along on side of the project for each section, which is demonstrated in the video.
BUTTONS
Several buttons are attached to the cowl to finish the piece. Corrina explains how to place the buttons and shares her tips for sewing different types of buttons onto knitted fabric.
Related Pattern: Carnivale Cowl

Popular All Videos videos
Explore videos by Corrina Ferguson