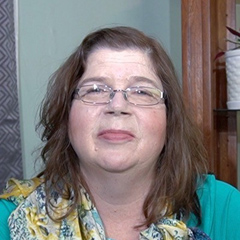 How to Work the Andalusian Stitch
Mary Beth Temple
There are thousands of stitch patterns that can be worked into your knitting. The Andalusian stitch is a simple textured pattern that can be used for a many different types of projects. You might find this stitch pattern used in baby blankets for beginners, socks, hats, and so much more.
Knitting expert Mary Beth Temple demonstrates just how easy the Andalusian stitch is to knit. All it takes is knit stitches and purl stitches to create this delicate pattern. It's worked by purling all the stitches when working the wrong side rows. On the right side rows, you will either work a row of knit stitches or a row of alternating knits and purls.
You'll notice that this pattern is not reversible. Mary Beth shows both the right and wrong sides of her swatch, and you can easily see that the right side of the fabric is a background of Stockinette stitch, with the purl ridges creating texture and interest every fourth row.

If you are working a particular knitting pattern, such as a baby blanket, the pattern will tell you how many stitches to cast on and work. You may commonly find this stitch pattern worked over an odd number of stitches and worked flat, in rows, as follows:
– Row 1 (Right Side): Knit all stitches.
– Row 2 (Wrong Side): Purl all stitches.
– Row 3: (K1, P1) to last stitch, K1.
– Row 4: Purl all stitches.
Repeating these four rows will create the Andalusian stitch and you'll be on your way to creating lovely, delicate knitting projects with it.
5

Responses to "How to Work the Andalusian Stitch"
Reply

Reply
Popular All Videos videos
Explore videos by Mary Beth Temple