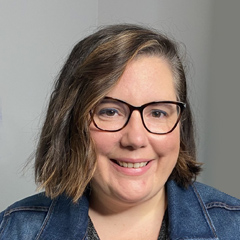 What's in Your Notions Bag?
Jen Lucas
Knitting notions are all those tiny items you need to finish your project. It includes tapestry needles and stitch markers, but there are many more things you might find helpful for completing your knitting project. In this video, Jen Lucas shows you everything she likes to carry around in her notions box.
Jen starts by discussing different things you can use to carry your notions. She reuses old make up bags, and even purchases hand-made notions bags. She also likes to use a larger plastic box that carries everything she needs, which is especially useful when attending knitting conventions and festivals.
Going through her notions box one-by-one, Jen takes everything out and discusses the use for each notion and why she likes to carry it with her. She packs her notions container with the following things:
– Stitch markers
– Sticky notes with pencil and highlighter
– Gauge Ruler
– Flexible tape measure
– Stitch holders
– Waste yarn
– Scissors
– Tapestry needles
– Point Protectors
– Row Counters
– Cable needles
– Extra double pointed needles
– Crochet hook
– Interchangeable knitting needle keys
What do you like to pack into your notions bag?
Explore videos by Jen Lucas