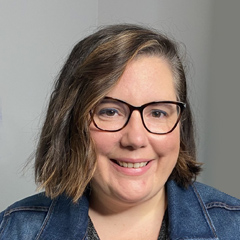 How to Use the knitCompanion App
Jen Lucas
Learn how to keep track of ANY pattern! With knitCompanion you can focus on your knitting instead of juggling paper, row trackers, and "at the same time" instructions. Whether you are an avid technology user or you're looking for a new way to keep track of your knitting pattern, the knitCompanion app could be the right fit for you. In this video, knitwear designer Jen Lucas shows you not only the basics of the free version of the knitCompanion app, but also explores many of the features that are used in the subscription/paid version of the app. There are so many ways that you can put this app to use in your daily knitting life!
The knitCompanion app is available for both Apple and Android products. You can use the app from your phone or tablet device, and your pattern is just a few taps away, ready to be customized. Jen begins by looking at some of the markers and trackers that are available in the free version of knitCompanion. Where the magic really happens with this app is in the paid features. With these features, you can truly customize the pattern to how you see fit. Add a quick key to refer to a specific part of the pattern quickly, customize row counters and markers, and add reminders. You can also set up charts as well as written instructions in such a way that you can easily ready them and keep track of your place.
There's so much to dive into with this app! Once you have your pattern all set up, there's nothing left to do but sit back, relax, and knit!
Popular Pattern Reading videos
Explore videos by Jen Lucas